Roadmaster Tow Bar Wiring - RM76514
Take some of the hassle out of towing your car with this fuse bypass system. FuseMaster replaces 2 of your vehicle's ATC/ATO fuses and lets you prep for towing by simply flipping a switch. Integrated holders keep fuses secure and functional.
Features:
Bypasses towed car's ATC/ATO blade-style fuses so you can tow your vehicle without draining its battery

Provides a simple alternative to removing fuses every time you tow
Stores fuses so that you won't lose them

Installs quickly, easily and permanently

Remove fuses from car's battery compartment and install FuseMaster in their place
Put fuses into FuseMaster fuse holders
Mount bypass switch in center console

Maintains functionality of fuse when switched on

Flip switch to "Drive" position and drive like normal

Overrides fuse when switched off

Flip switch to "Tow" position and you're good to tow

Application: ATC/ATO blade-style fuses rated at 20 amps
Made in the USA
Some cars can be towed only if you get under the hood and pull a fuse or fuses. If you don't remove these fuses before towing, there's a good chance that your battery will be drained by the time you reach your destination.
Roadmaster's FuseMaster makes it easy to prep your vehicle for towing. Simply remove the fuses indicated in your owner's manual and replace them with the bypass. The system will hold the removed fuses and maintain their functionality. So, once the initial installation is complete, you don't have to remove or replace your fuses again.
Whenever you want to drive your car, just make sure the switch on the bypass is flipped into the "Drive" position. When the bypass system is on, the fuse will be active and your vehicle will function normally. Then, when it comes time to tow, switch the FuseMaster to "Tow." Doing this will render the fuse inactive so that you can flat tow your car without its battery being drained.
Installation
This bypass installs inside your vehicle's battery compartment, which is located beneath the rear passenger's-side seat. To mount the FuseMaster switch, route the harness up to your center console. You will have to drill access holes in the console to run the FuseMaster through and to mount the switch.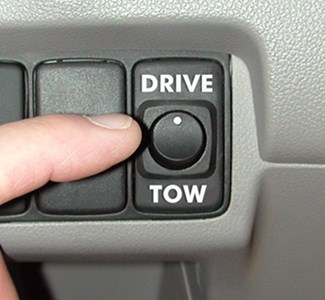 Included with the FuseMaster are 2 stickers: "Drive" and "Tow." Once the switch is installed, you can place the stickers on your console - one on each side of the toggle - to remind you which way the switch must go for each application. Place the "Drive" sticker on the side of the toggle that has the white dot. (To drive your car, the switch must be flipped so that the side with the white dot is depressed.) The "Tow" sticker can then be placed on the opposite side.
76514 Road Master Fuse Master Fuse Bypass for Towed Cars