Roadmaster Tow Bar Wiring - RM76510
Take some of the hassle out of towing your car with this fuse bypass system. FuseMaster replaces your vehicle's mini-fuse and lets you prep for towing by simply flipping a switch. Integrated holder keeps fuse secure and functional.
Features:
Bypasses towed car's mini-fuse so you can tow your vehicle without draining its battery

Provides a simple alternative to removing a fuse every time you tow
Stores fuse so that you won't lose it

Installs quickly, easily and permanently

Remove fuse from car's fuse box and install FuseMaster in its place
Put fuse into FuseMaster fuse holder
Mount bypass switch near fuse box

Maintains functionality of mini-fuse when switched on

Flip switch to "Drive" position and drive like normal

Overrides mini-fuse when switched off

Flip switch to "Tow" position and you're good to tow

Made in the USA
Specs:
Application: ATM mini-fuse not exceeding 20 amps
Harness length: 10"
Some cars can be towed only if you get under the hood and pull a fuse. If you don't remove this fuse before towing, there's a good chance that your battery will be drained by the time you reach your destination.
Roadmaster's FuseMaster makes it easy to prep your vehicle for towing. Simply remove the fuse indicated in your owner's manual and replace it with the bypass. The system will hold the removed fuse and maintain its functionality. So, once the initial installation is complete, you don't have to remove or replace your fuse again.
Whenever you want to drive your car, just make sure the switch on the bypass is flipped into the "Drive" position. When the bypass system is on, the fuse will be active and your vehicle will function normally. Then, when it comes time to tow, switch the FuseMaster to "Tow." Doing this will render the fuse inactive so that you can flat tow your car without its battery being drained.
Installation
The preferred location for mounting the FuseMaster switch is the access panel inside your vehicle that leads to your fuse box. The switch must be mounted on a plastic surface that is no thicker than 1/4". Do not mount the switch on a metal surface. Drilling is required.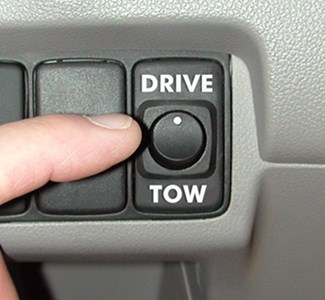 Included with the FuseMaster are 2 stickers: "Drive" and "Tow." Once the switch is installed, you can place the stickers on the access panel - one on each side of the toggle - to remind you which way the switch must go for each application. Place the "Drive" sticker on the side of the toggle that has the white dot. (To drive your car, the switch must be flipped so that the side with the white dot is depressed.) The "Tow" sticker can then be placed on the opposite side.
76510 Road Master Fuse Master Fuse Bypass for Towed Cars - Short

Installation Details

Customer Reviews
Roadmaster FuseMaster Fuse Bypass Switch for Towed Vehicle - 10" Harness - 20-Amp ATM Mini-Fuse - RM76510
Average Customer Rating: 4.8 out of 5 stars (12 Customer Reviews)
Take some of the hassle out of towing your car with this fuse bypass system. FuseMaster replaces your vehicle's mini-fuse and lets you prep for towing by simply flipping a switch. Integrated holder keeps fuse secure and functional.
- RM76510
by: Yendor09/12/2014
Installed this in my Honda crv, I hired the installation but am very happy that I just have to push the button to go to tow mode now. 150840
Comments
Excellent. I hook up my car push the tow mode button and we are off.

Yendor - 09/12/2015
14894
- RM76510
by: Don L02/10/2014
Relatively easy to install, instructions were clear and concise . I am very impressed with service received from you folks. This is the third time I have ordered from you and all three times the service has been exceptional . I will certainly be ordering again as I need more products. Thanks! 116188
Comments
Product works fine and I am still very happy with my purchase

Don L - 03/03/2015
9830
- RM76510
by: Bill B05/29/2014
My wiring harness arrived in 2 days, RM-154 and RM6510. Fast and everything was as ordered. I just need to install it and then we are Camping. 133384
- RM76510
by: Ken S.03/08/2016

Worked great, easy to install. Put this into my 2003 Honda CRV. Be sure to turn off or else you will not b able to put car in reverse. 240126
- RM76510
by: John12/07/2015
It was easy to install as the video showed step by step how to do. Thanks again for great service and products. John 233278
- RM76510
by: Leigh V.06/01/2016
Product works as advertised and good service also. I would order products from etrailer again 255453
- RM76510
by: Barry R.09/03/2015
Product received on time and as ordered. Very satisfied. Will order here again for sure! 223923
- RM76510
by: Larry H.04/24/2015
Employees provided great service with expert knowledge. 188076
- RM76510
by: Rich B.03/02/2016
Snap installing following video instruc tions. 239191
- RM76510
by: Jim08/04/2013
Well designed and made. Easy installat ion. 93176
- RM76510
by: Allen08/29/2015
Great makes everything a lot easier 222668
- RM76510
by: Alan04/30/2016

It works as advertised. 247753
12
12
Why etrailer.com?
At etrailer.com we guarantee:
Highest quality tow bar wiring for the best price.
Real product know-how.
We make sure that the products we sell are what we say they are, and that they work the way they are supposed to work. This helps you get the right product the first time.
Every day our teams test, review, assemble and install our products. Our modern installation facilities allow our expert installers and customer service representatives to actually install and use the items we sell, so you can get real advice, from a real person who has the knowledge and expertise needed to solve your problem.
Most detailed, accurate tow bar wiring information available.
Because we take providing accurate product information seriously, we take our own detailed product photos, demo videos and installation videos, as well as verify measurements, instructions, and vehicle fit information.
Information for this part was:
Installations, made easy.
We love helping people.
We have the most highly trained customer service, hands-on experience, step by step videos and installation instructions. We are prepared to answer any question, give advice, or troubleshoot any problem you come across.
Fast shipping.
Personalized service for life.
We provide one-on-one, personalized service from the ordering process through the life of your product.
Trusted since 1946.
We've been serving customers since our parts store first opened in 1946 and continue to be recognized by our customers, our vendors and third parties for exceptional service.