Craftec Tonneau Covers - 654334
Have it all. This easy-on-your-wallet, hybrid tonneau is hard-body strong and soft-cover light. Built for looks and durability, the Craftec cover's light, aluminum frame and gas struts lend easy, 1-person operation and removal.
Features:
Raises effortlessly on pressurized gas struts

Conserves time and energy - no unrolling, snaps or Velcro to slow you down

Removes in seconds so that you can haul oversize cargo

Easy, 1-person, 3-step process

Shields and shelters your cargo

Safeguards against bugs, dirt and inclement weather
Prevents items from blowing out of your truck bed
Deters theft - 2 hidden metal latches in the rear of the truck bed secure cover to side rails

Ultra-secure when combined with a locked tailgate

Enhances style and improves fuel efficiency

Sits about 3/8" above truck bed - low-profile design
Boosts gas mileage by up to 10 percent by reducing wind drag
Gives your truck a tidy, finished look

Delivers rugged durability in a lightweight package

High-grade, UV-resistant, 18-oz soft vinyl cover

Dense foam weatherstripping on back edge for water resistance

Heavy-gauge aluminum hidden framework

Sturdy bow-and-frame construction

Installs easily using step-by-step instructions and standard tools

No drilling - frame clamps onto truck-bed side rails

Compatible with under-the-rail bed liners

Can be used with over-the-rail bed liners - cutting of liner required

Made in USA
Specs:
Color: black
Limited lifetime warranty on aluminum frame
3-Year limited warranty on vinyl
The hatch-style Craftec tonneau cover is sleek and simple to use, and it removes in three quick steps to give you the option of full truck-bed use.
Step 1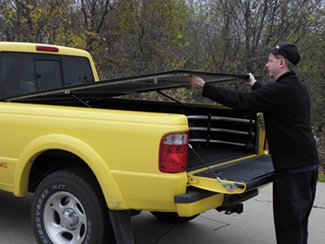 Lift hatch cover.
Step 2
Using a small, flathead screwdriver, unclip the gas shocks from the truck-bed rail mounts and raise the cover.
Step 3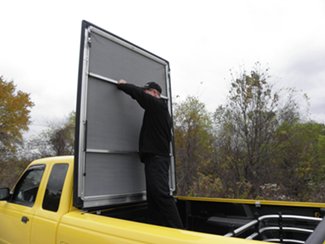 Raise cover to full vertical position, then slide it out of the C-channel groove and to the side. The cover's light weight and innovative design enable you to remove it single-handed in under a minute.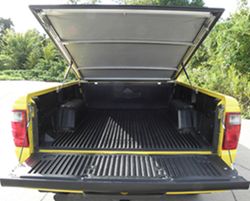 Gas struts make opening Craftec's soft vinyl tonneau practically effortless - you can even open it with one hand.
They also hold the cover upright and out of the way while you load or unload your gear.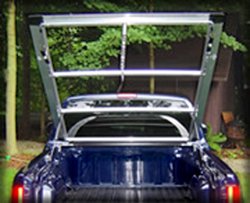 Sturdy, heavy-gauge aluminum framing provides the tough but lightweight backbone that gives the Craftec truck-bed cover its strength.
Hidden under the back of the closed cover are two sturdy latches that rotate into place to secure the tonneau to the truck-bed rails, providing a travel-tight fit. Once you have secured the latches and locked the tailgate, the latches - and your cargo - are safely hidden away under the cover.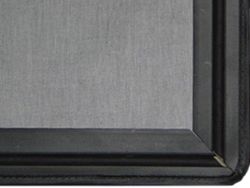 Weatherstripping is attached to the underside of the vinyl cover, rather than to the truck bed, keeping out water and protecting the paint on your truck-bed side rails.
The 18-ounce, black vinyl cover is UV resistant, and its edges are bound for a smooth, clean look.
654334 Craftec Soft Vinyl Tonneau Cover - Black
This Product Fits The Following Vehicles
2007 - 2012 Nissan Frontier Crew Cab, 6 Foot Bed
2005 - 2012 Nissan Frontier King Cab, 6 Foot Bed
Ask the Experts about this Craftec Tonneau Covers



Do you have a question about this Tonneau Covers?