Bestop Tonneau Covers - B76309
Built to last and easy to use, the Supertop collapses to store behind the cab and allows unrestricted access to the bed. The kit includes a soft top, removable windows and powder coated Belt-Rail frame system for quick and complete installation.
Features:
Collapsible top for complete access to truck bed
Removable zippered windows and side panels
Patented Belt-Rail frame for no-drill installation and accurate fit
Industry-leading bow-release system for easy adjustment or removal
Tailgate opens for truck bed access with no need to open or remove rear window
Universal Diamond Black color to match any vehicle
Kit includes third brake light to install on rear bow
Bestop's Supertop for Truck replaces bulky camper shells and tonneau covers by providing the benefits of both in one unique system. Supertop covers the complete bed and stands cab height to offer the same storage space as a camper shell. And it features the flexibility and durability of a tonneau cover, folding away when not in use. The top requires just one person for an easy, no-drill installation and can even increase fuel efficiency up to 10 percent by cutting down on tailgate drag.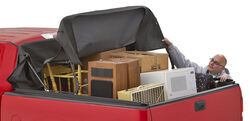 The top folds away easily using Bestop's industry-leading bow-release system. The bow system also makes for quick top removal.
Supertop features patented sliding Belt-Rail system for mounting and installs easily with four clamps that attach directly to the vehicle bed for a secure fit. Supertop is made with durable, weather-resistant fabric and powder coated hardware for long life.
The top comes equipped with heat-sealed, DOT-approved vinyl windows in 31 percent tint. Heavy-duty zippers on all windows make removal and attachment simple. Side panels also attach with zippers for effortless installation and removal.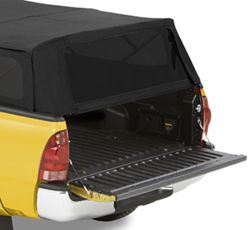 A rear tailgate bar enables user to open the tailgate without unzipping or removing the rear window. The rear window can also be rolled up and secured with elastic garters for bed access with no need to open the tailgate.
76309-35 Bestop Supertop for Truck
Customer Reviews
Bestop Supertop for Truck Collapsible Bed Cover - B76309
Average Customer Rating: 4.3 out of 5 stars (19 Customer Reviews)
Built to last and easy to use, the Supertop collapses to store behind the cab and allows unrestricted access to the bed. The kit includes a soft top, removable windows and powder coated Belt-Rail frame system for quick and complete installation.
- B76309
by: Kevin R.11/17/2013
Love it. Looks great and works well. Seems solidly built and installed as easily as advertised. Appreciated prompt and clear customer service. Would recommend your site and product to others. 107621
- B76301
by: Dominic P04/29/2014
Review from a similar Bestop SuperTop in Tonneau Covers
I purchased the canvas "topper" for my 2014 Toyota Tacoma. I wanted something that was lighter than a conventional fiberglass topper. I also wanted something that i could move or remove easily to haul taller objects in the back (Motorcycles). Installation was recommended for 1.5 hours. I took my time and did it alone, it was almost exactly 1.5 hours. If possible I recommend 2 people to install. The canvas is tight when new and some stretching was in order. Once installed i spent the next day driving through rain for a total of 312 miles. No issues with leakage or no extra wind noise. Overall I would give it a 10 out of 10. It exceeded my expectations. Lastly e trailer made the transaction very smooth and delivered it super fast and in great shape. They continue to make me a lifetime customer. 128065
Comments
Its been a year since i originally purchased my Best top cover for my Tacoma. Unfortunately I had a issue with the velcro lifting in the front. This caused it to billow and damaged the top. Etrailer and Best Top worked resolve the issue and replaced it with a new one that fit better and i have been using since Nov 6 months ago. I am happy to report it is even better than the first. I would definitely buy this again for my next truck. Both companies, etrailer and Best Top are the best!

Dominic P - 04/29/2015
11215
- B76305
by: Mike V02/11/2012
Review from a similar Bestop SuperTop in Tonneau Covers
I recieved the supertop on Wednesday afternoon around 3 ;30PM and immediatly put the truck in a heated garage to begin the installation process. By 5:00 I had the rails and supports on and put the top on and got the front secured to the front of the box, however the top would not stretch enough to allow me to secure the rear to the rails so I left it to warm up overnight so as not to rip the material. I finished the installation in about two more hours the next morning. The only complaint so far is that the two outside snaps on the right rear support rail do not line up and will not stretch enough to allow me to attach them , even after heating the top to 80 degrees. I hope the material will stretch over the next few days to allow me to connect the last two snaps. It really would be easier for two people to put the top on the first time as you really do have to stretch the fabric quite a bit to hook the rear corners, I really was afraid of ripping the seams. However upon close inspection afterwards I can find no tears as of yet. I really do like the looks on my black FX-4. We are planning a trip to Georgia this month and need the cover to haul some furniture down can hardly wait to try it out on a long trip. We had a heavy wind with blowing snow last night and only a little snow blew in on the right front corner, I will seal the corners and see how it works in the future. Thanks for a great product. 31520
- B76304
by: MarkK05/17/2012
Review from a similar Bestop SuperTop in Tonneau Covers
The quality of the bestop that was on my Jeep is why I chose to get one for my truck instead of the other brand. Etrailer was great to deal with. They matched a lower price that I had found online, and got the top shipped out immediately even late on a Friday afternoon. It showed up on Wednesday, earlier than predicted. Now for the top... I expected a great fit and easy installation. The rails and bows were simple, But the bed on my Dodge is wider at the front than the rear. The top is made for the narrower width, so the rails barely sit on top of the bedrails, exposing the stake pockets on the bed, and making the whole thing look goofy. Highly disappointing! The way side panels attach is another bad design. I expected a zipper across the top, like the jeep tops, but the plastic j channel set up was a real pain to keep in place. Im thinking maybe I should've ordered the Softtopper. 40818
- B76303
by: James C06/04/2012
Review from a similar Bestop SuperTop in Tonneau Covers
Great top, allows for the versatility I require for transporting my stuff from point A to point B without the cost, additional weight or restriction of a hard top. Initial concerns regarding reduced visibility were laid to rest once installation was complete. As with a Jeep Soft Top, it is not recommended for security of high value items. The only things preventing me from rating this product as excellent were the zippers on the passenger side panel being sown on upside down. $20 for a local seamstress to correct the issue. Review of etrailer - product verified as in stock and order placed on Saturday of Memorial Day Weekend, product arrived on Wednesday. Great Customer Service from Katie in helping me determine what products I could order based on lead time and my timeline. 42715
- B76303
by: Dave O.02/15/2012
Review from a similar Bestop SuperTop in Tonneau Covers
Not a bad product once installed. Understand that the canvas will be VERY tight and letting the fabric relax in the sun will make things easier. Definitely needed an extra set of hands and took about 3 hours to complete the job. Would be awesome to have directions on the wiring for the 3rd brake light. 31879
Comments
Third brake light wiring lowers the top to a rating of 3? I agree instructions would be beneficial. However, if I recall correctly, the manufacturer recommends professional installation. I had a difficult time figuring it out and Ive wired up many things in the past. As such I let Chevy take care of it for $50, it was worth the time and hassle.Awesome top! Bestop hits it out of the park with this one. eTrailer, got me my top in a few days, just in time for a move.
comment by: James C - 08/08/2013
1867
- B5159515
by: drdave1807/02/2015
Review from a similar Bestop Supertop in Tonneau Covers
This is a really nice looking, quality top. I had someone else install it, so I can't personally speak about that aspect, but it didn't sound like it was too difficult. I like that there are a lot of different options for opening the windows; you can use it in all sorts of configurations. The only problem so far is that I have to lift up on the passenger door a little to close it and get it to latch. Not sure if this has to do with the top or the Jeep, since the Jeep was just restored and it wouldn't surprise me if something on the Jeep is a little out of alignment. If you are looking for a top for your Jeep I don't think you could do any better than this one. 208806
- B5146415
by: Chris B.11/07/2013
Review from a similar Bestop Supertop in Tonneau Covers
My Bestop Supertop fit my Toyota FJ-40 perfectly. The instructions said to be careful to get one dimension exactly 81", and on my 40, it is 82-1/4". To be on the safe side, I used welder's clamps to mock up the installation, and everything was fine. I did drill two holes for a lower position on the top bow, but I suspect that I will be able to use the standard holes in a week or two. Very satisfied with etrailer and Bestop. 106625
- B76306
by: MikeR02/04/2014
Review from a similar Bestop SuperTop in Tonneau Covers
There are 3 things I don't like about this product. 1 - The zippers for the windows can only be zipped from the outside. The zips are one sided, they should be 2 sided so they can be zipped from the inside also. 2 - The windows must be removed before it can be folded down. 3 - The window by the cab of the truck is solid. I would like to be able to zip/unzip it like the other windows. 115704
- B76310
by: Joe W.05/07/2013
Review from a similar Bestop SuperTop in Tonneau Covers
The instructions were wonderful and it made the installation very easy. The cover has proved itself on several of my camping trips, keeping my gear dry and clean. I should have ordered it sooner. 79268
- B76317
by: Keith J.06/06/2015
Review from a similar Bestop SuperTop in Tonneau Covers
After reading the instructions many times, the top was slowly put together. The one thing the instructions leave out is that it helps to use a silicone lubricant when sliding the window panels onto the top. Other than that, everything was as advertised. 201248
- B76304
by: Dan02/17/2011
Review from a similar Bestop SuperTop in Tonneau Covers
I ordered a bestop folding truck topper on Tuesday and got it on Thursday morning. What else can I say? Best price on the web, free shipping, upgraded to 3-5 day for free, shipped same day. Excellent feedback through the whole process. Will use again. 7362
- B76301
by: Gary S12/17/2014
Review from a similar Bestop SuperTop in Tonneau Covers
Thanks to Nicky and her great communication skills, got the product as she said-before Christmas to Ontario,Canada, very pleased. Great looking unit, very good quality, nice and tight. Super products, Thanks Nicky at etrailer. Gary Ontario,Canada 165815
- B76304
by: Keith08/12/2011
Review from a similar Bestop SuperTop in Tonneau Covers
Great looking cap.. But the instructions are vague also I wish the windows had a zipper that went around the top, they use a slip joint system thats a pain in the rear end to put the windows in and out.. All in all I would buy it again... 21760
- B76317
by: John B.06/21/2011
Review from a similar Bestop SuperTop in Tonneau Covers
product does not follow the contour of the bed, poor fit. also top of cap is 4" higher than my cab which actually reduced mt highway mileage by 4 mpg. would not recommend it to anyone 17548
- B76308
by: Jeremy03/13/2013
Review from a similar Bestop SuperTop in Tonneau Covers
Great product and the communication between me and the staff were excellent. It was a pleasure dealing with them. The product was pretty easy to figure out as well. 70595
- B76303
by: Carl02/07/2013
Review from a similar Bestop SuperTop in Tonneau Covers
I received an excellent price on the product and excellent service receiving it. I wouldn't hesitate to use this company again. 65235
- B5160337
by: David05/03/2014
Review from a similar Bestop Supertop in Tonneau Covers
Looks good kind of hard to put on but it is worth the effort and the price 128752
- B5146415
by: Tomc06/01/2015
Review from a similar Bestop Supertop in Tonneau Covers
Great price, fast shipping and great follow through. 199405
20
20