Derale Radiator Fans - D20161
Improve the fuel economy and increase the torque and horsepower of your Wrangler while also ensuring the best full-time airflow, even in off-road conditions, with this complete, easy-to-install, electric radiator fan kit.
Features:
Increases fuel economy, horsepower and torque
Improves overall functioning of your Jeep
Replaces factory fan clutch and shroud
Designed with ultra-quiet, skewed blades and high-output, 265-watt motor
Includes thermostat control to turn fan on or off automatically, depending on fluid temperature

Conserves power when additional cooling is unnecessary and provides adequate airflow when it is needed

Comes with easy-to-follow instructions for no-drill installation, mounting brackets, necessary hardware, thread-in probe, relay harness, probe bushing and A/C override circuit

A/C override engages the fan automatically whenever the air conditioner is turned on to help compensate for increased engine load
Radiator reservoir remount brackets and power steering remount brackets are included, but may not be required on all models

Made in USA
Specs:
Overall dimensions: 19-1/2" wide x 18" tall x 3-5/8" deep
Fan diameter: 17"
Shroud thickness: 1-5/8"
Mounting dimensions: 22-5/8" wide x 10" tall
Maximum cubic feet per minute: 2,400
Power draw: 23.5 amps
High-output motor: 265 watts
Application: 1987- 2006 Jeep Wrangler (4- and 6-cylinder engines)
1-Year warranty
Whereas belt-driven fans use up power from the engine to turn, electric fans do not, thus removing any unnecessary load and increasing both fuel economy and horsepower. In addition, you do not have to worry about an electric fan's slowing down at low RPM as many belt-driven ones do, so you are guaranteed sufficient airflow regardless of the vehicle speed. This is especially important in off-roading conditions.
The thermostatic control sends a signal to the fan, directing it to shut off when fluid temperatures reach an appropriate level, thus saving power. Once the temperature climbs again and additional cooling is needed, the fan is automatically turned back on.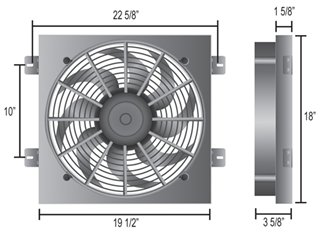 20161 Derale Direct Fit, Performance Electric Fan Jeep Kit