Use this rack in a traditional 2" hitch receiver or bolt it to your 4"-4-1/2" tall, continuously welded steel RV bumper, and haul up to 2 bikes. The bike rack has sliding wheel hoops and adjustable arms to accommodate most bike sizes.
This multipurpose bike rack is perfect for use with your everyday vehicle and your recreational vehicle - all in one package. The bike rack mounts to a standard 2" square trailer hitch receiver, but - by adding an included sleeve to your bike rack shank - it also fits your RV bumper. The sleeve slides over your bike rack shank, and it's held in place by your threaded hitch pin. The sleeve is then connected with bolts to another included plate placed under your RV bumper. Installation takes only minutes.
The rack comes with wheel hoops that provide a stable base for mounting your bikes. The hoops adjust with a hand knob and slide along the arms of your rack to accommodate bikes with wheelbases up to 52" and tires up to 3-1/2" wide.
The upright arm includes a pair of push-button, ratcheting hooks that hold your bikes securely in place to prevent bike-to-bike and bike-to-vehicle contact during transport. The hooks feature soft padding to protect your bike frame, are offset so that you can carry two bikes of the same size simultaneously, and can be locked with a 1/4" padlock. Fold down the entire upright arm by pulling a pin at the base; this enables you to reach all the gear in your vehicle's rear cargo area obstacle free.
You can release the side arms of the rack by pulling pins at the base, then fold them up for convenient storage.
Customers Who Purchased This Hitch Bike Racks,RV and Motorhome Bike Racks Also Bought...
Customer Reviews
Swagman Platform-Style 2 Bike Carrier for 2 - S64663
Average Customer Rating:





4.8 out of 5 stars (36 Customer Reviews)
- S64663





by: Sparky01/18/2011
Is this review helpful?
Great Bike Rack !!! This bike rack seems to be of very good quality and it was very easy to assemble. I very muck like its versatility. It fits the rear bumber of our camper and can easily br moved to any of our vehicle's equipped with a 2" hitch assembly.The shipping by etrailer.com was not only free but fast and efficient! I highly recommend this product and company to anyone looking to purchase a bike rack.5639
- S64663





by: Jamie Lee05/16/2011
Is this review helpful?
Awesome product! Perfect for my jeep. 14175
- S64663





by: john grozenski03/10/2011
Is this review helpful?
so far so good. the only thing i have done was assemble it. it is just what i wanted.8982
- S64663





by: DBM06/18/2012
Is this review helpful?
This is the first rack I've purchased. I am very happy with the product. built sturdy and was very easy to assemble. Holds the bikes solid and was very secure when traveling on the highway. The middle bar does lower to the side for trunk access on my SUV which is not mentioned in the product description. Overall for the price I am very satisfied and would definitely recommend it to anyone who is interested in a simple inexpensive rack. etrailer was good. package was well rapped. it did look like someone had opened the actual product box but the rack was in prefect condition. 44678
- S64663





by: Rich Stromer06/15/2012
Is this review helpful?
Just took our 1st trip to the coast with the bike rack. It was all we hoped it would be & more! We are extremely happy with it! Easy to put together & the bikes were very secure en route. Thanks for a GREAT product! 44403
- S64663





by: Marc M.06/04/2012
Is this review helpful?
Well made and easy to use,very easy to adjust to different types of bikes.42766
- S64663





by: Deb M01/28/2012
Is this review helpful?
I am very satisfied with the strength, simplicity of design and ease of use. It is very rare to find products made with this kind of quality these days. I highly recommend this rack. 30481
- S64663





by: Steve A.11/04/2011
Is this review helpful?
Delivery was prompt and the product was well packaged. The 2" bolted bumper receiver that accompanies this rack is O.K., but I prefer the 2" Curt Manuf. , which I bought separately.This product is well made (Good+), but there is a potential security issue. If the set screws on the bottom of the rack to receiver bar are loosened and the security pin removed, one could remove both bikes with trays even though the bikes are secured with locks inserted at the hold-down hooks. For this reason, I have replaced the supplied security pin with a 1/2" locking pin. I have also inserted a threaded locking pin at the receiver and shackled the receiver to the bumper. This might be overkill, but if you have expensive bikes it might be worth it! 26569
- S64663





by: Leota06/30/2011
Is this review helpful?
We are very pleased with the bike carrier, the quality is excellent and the mounting is simple. bikes are easy to mount into the carrier. Would recommend.18282
- S64663





by: Ken N,.03/30/2011
Is this review helpful?
The bicycle carrier I purchased was a two bicycle carrier. It assembled very easily with common hand wrenches. The carrier although fabricated from steel did not weigh as much as I anticipated. The coating on the carrier was thick and should last for many years. 10719
- S64663





by: Ron SanClemente03/24/2011
Is this review helpful?
etrailer upgraded shipping at no additional cost to me. The bike holder is much better than I anticipated. Very rugged and easy to install. I am so pleased that I going to their website today to purchase addtional items.10252
- S64663





by: Stu L.05/09/2013
Is this review helpful?
Everything went together fine. So far I am very happy.79669
- S64663





by: Kevin M.05/02/2013
Is this review helpful?
I recently ordered the Swagman 2 bike carrier. The merchandise was delivered on time, as promised. I had reviewed this product for several months from different sources before choosing etrailer. I am extremely happy with both etrailer and the product and would recommend etrailer (just as they were recommended to me by a friend who bought from them) for any of yours needs. Etrailer also maintains excellent customer communications from the time the order is placed until it is delivered. GREAT JOB!! Thanks! 78647
- S64663





by: Rick04/26/2013
Is this review helpful?
Great product 77977
- S64663





by: Tim O.04/19/2013
Is this review helpful?
Very good quality for the price..... sturdy and easy to use.. I'm very satisfied with Swagman and e-trailer both. Fast shipping and FREE... I'll do business with them again ,,,76952
- S64663





by: Margaret04/04/2013
Is this review helpful?
Shipped out quickly. Rack seems well built. Works great on my trailer and tow vehicle. Highly recommend.74283
- S64663





by: Alan B.03/27/2013
Is this review helpful?
Great product and quality construction. Very easy to put the carrier on and take off of vehicle. Easy and secure way to carry bicycles. Etrailer provided great service and tracking of order, and the price point on the carrier sealed the deal. Thanks.72825
- S64663





by: Robert03/01/2013
Is this review helpful?
A very sturdy bike rack and very easily installed .Meets my requirements .68376
- S64663





by: tap194608/17/2012
Is this review helpful?
Product was originally back ordered from the manufacturer. eTrailer went above and beyond to see that I had this product before a near term departure date. Product is quite heavy and arrived well packaged. No shipment damage whatsoever despite the bulk and weight. Assembly was very straightforward and took about half an hour. Assembly directions were very clear but were not really needed. Simple hand tools are all that are required, although a few of the bolts will take a heavier duty adjustable wrench or set of sockets to install. Once installed and loaded with a pair of bicycles, I found the unit to be extremely stable (both on the back of my pickup truck and on the back of my RV). Once the cradles are properly adjusted for the spacing of the bicycle wheels, loading and unloading bicycles is a breeze. No more heavy lifting many feet off the ground. Although I did supplement with a binder strap, the bicycles are held very secure once you drop the top hooks down on them. The only con I have (which is mostly my own fault) is that the top latch scratched the frame on my bicycle because brake and shift cables run exposed along the top of my bike frame and I didn't think about the hook pushing them into the paint. Some padding under those cables before dropping the hook would have solved the problem. This is an innovative and well made rack that will give you many years of service and save you a lot of grief in the process.52038
- S64663





by: Patti M.07/24/2012
Is this review helpful?
Swagman 2 bike carrier 49136
Click to Enlarge
- S64663





by: Tim K06/05/2012
Is this review helpful?
This was an extremely smooth transaction from purchase to product arrival. Etrailer.com kept me informed from order conformation to product shipment and shipment tracking. Staff was very helpful when I placed the order. The bike rack was exactly as advertised and in actual use, the only issue was with the innermost bicycle's handlebar came into contact with the motorhome (see attached photo). I resolved this by loosening the handlebars and twisting them to run parallel with the motorhome. Other applications may not have this problem, based on the design of the individual motorhome. I'm pleased with the build quality of the bike rack and I think I will get many years of reliable service from it. I would recommend both etrailer.com and this bike rack to anyone looking for a similar product.42888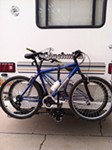 Click to Enlarge
- S64663





by: Jay R.06/03/2012
Is this review helpful?
This bike carrier is well built and very versatile. We use it on the back of our 5th wheel trailer and on the back of our pickup truck. It was great that it came with the attachment for our trailer bumper. It really keeps the bikes securely in place. It's also nice that it is lockable and folds down so its out of the way when it needs to be.42577
- S64663





by: Don R.06/01/2012
Is this review helpful?
Installed on my Travel Trailer's 2" receiver for recent camping trip. Works great and bikes secure. As extra caution, I installed another strap over the bikes. Prompt shipment.42251
- S64663





by: Richard V05/29/2012
Is this review helpful?
Shipped at lightning speed, Packaged extremely well, Nice fit and finish. Easily assembled with a phillips screw driver and a adjustable open end wrench. Very sturdy and well made. Great value for the money. No disappointments!41915
- S64663





by: john s.05/28/2012
Is this review helpful?
Better than advetised. Bike mounted easily, tires do not flop. Great hold down system, really holds. Easy to mount and remove. Great product!41855
- S64663





by: Gerald R05/27/2012
Is this review helpful?
I was very happy with the fast ground shipping and all the information I needed to make the right choice for me. I will be ordering thing needed in the future.41793
- S64663





by: Gary B.05/21/2012
Is this review helpful?
This bike carrier is very sturdy. I have not used it yet but can tell that it is very well built. I am sure it will suit my needs just fine.41215
- S64663





by: David A05/21/2012
Is this review helpful?
Assembly was straight forward and simple. loading and unloading bikes is now a pleasant task. I have taken my bikes on extended interstate and local access roads with zero problems. could not be happier with this carrier.41100
- S64663





by: Dave T.05/13/2012
Is this review helpful?
I finally got my trailer back from the dealer. So I installed the rack. I had to extend the one side out to 56 inches as the one bikes tires are extra long. What is great, you can off set the bikes so they fit better. This is the first time a product like this has a lot of good paint on it. Usually you have to repaint it right away. Not this time. This bike rack sure works well it locks the bikes in good and the other bolts tighten it so it does not rattel or sway.40226
- S64663





by: Jim05/11/2012
Is this review helpful?
Excellent product! Fantastic service! 40137
- S64663





by: David A04/12/2012
Is this review helpful?
I just received my platform bike rack today. assembly took about 15 minutes. everything appears to be as advertised. looking forward to loading the bikes this weekend for a ride on the trail.37009
- S64663





by: Ray M03/31/2012
Is this review helpful?
The rack was very easy to install on the car hitch and easy to assemble. The upright post is notched so the hooks slide down and latch to prevent the bikes from bouncing or rattling. The loops are adjustable positions to align with any size bike. There are set screws under the slide-on rack to prevent it from rocking, rattling, and bouncing back and forth. 35790
- S64663





by: Glen S.02/14/2012
Is this review helpful?
I just installed the Swagman Platform-Style 2 Bike Carrier on a 2012 Montana 5th Wheel. The carrier came with all required parts and went togeather with no problem. The bike cover I ordered also fit perfectly. etrailer notified me at every stage of my oreder (submission thru dilivery). Order was deliveried on time and in perfect condition. Anyone looking for a bike carrier, I would recommed ordering through etrailer and getting a Swagman. 31836
- S64663





by: Richard Mack02/11/2012
Is this review helpful?
I haven`t had time to assemble it yet, but the bike rack looks to be very well built. I have no doubt that this is a quilty product. The bumper attachment is well made and heavy. I have no fears about attaching this to the back bumper of my 5th wheel. This is a good looking set-up and apears to be very functional and easy to use. I would recomend this product before any-other. etrailer was very easy to deal with and has SUPER FAST SHIPPING. A+ all the way...31497
- S64663





by: Candie H01/04/2012
Is this review helpful?
This product was exactly as described. We are just getting back into biking. We wanted to be able to take our bikes with us when we go camping or when we just go for an afternoon. This took care of both of our issues. Whether it's a day-long trip or a week-long trip, it's covered. The quality is excellent and the customer service was AMAZING! I ordered online on a Sunday evening before Christmas at 6:30 p.m. and my product arrived the following Tuesday afternoon with FREE SHIPPING!!!! I will definitely order from them again.29081
- S64663





by: scott g06/05/2012
Is this review helpful?
Purchased rack and locking hitch pin for my 2 inch hitch on my Rav4. Needed to drill out the supplied 2 inch receiver so the hitch pin would fit properly onto the factory toyota 2 inch hitch. Have not used the rack yet but it seems as if it will be easy to use the folding features to access the rear of the vehicle.42841