CIPA Mirrors - CM36301
Never get lost again! Of course, we can't promise that, but this CIPA automatically dimming, camlock-mount replacement rearview mirror will help you stay on course with its handy, built-in compass and map lights.
Features:
Mirror face automatically dims to reduce headlight glare
Dual map lights provide downward illumination that won't interfere with driver's vision
Self-calibrating electronic compass

Bright LED digital display integrated into mirror housing

Easy installation

Only the power sensor must be wired

Made in USA
Specs:
Dimensions: 10" long x 2-1/2" tall
Camlock-style mirror mount included - fits most imported cars
FMVSS approved
1-Year limited warranty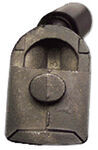 These brackets are typical of camlock-style mounting hardware.
Camlock Mount: These mirrors are generally standard on vehicles manufactured outside of the United States but may be found on some US brands. Camlock-style mirrors must be removed by turning the mirror 90 degrees, so that it is perpendicular to the dash, and then pulling down on the mirror.
Safety Note: CIPA does not recommend installing these mirrors on hybrid vehicles, vehicles equipped with air bag sensors in the headliner, or those equipped with OnStar. Check with the manufacturer for information regarding your specific vehicle.
36301 CIPA Auto-Dimming Rearview Mirror with LED Compass Readout and Map Lights - Camlock Mount
Customers compare CM36301 to these similar products
Ask the Experts about this CIPA Mirrors


Do you have a question about this Mirrors?


We do have the CIPA rear view mirror with auto-dim, compass, and temperature display. It is # CM36400, but it is a wedge mount. I have included a link to the installation details for you to view. To mount this mirror you will need the universal mounting kit # CM49088 to replace the camlock mount you have. Current pricing can be seen by clicking on the links to the product pages.
view full answer...