Master Lock Locks - 8122D
Convenient and easy-to-use cable lock lets you set your own combination for quick recall and ultimate security. Flexible steel cable has scratchproof vinyl covering so that it won't damage your bike, toolbox or other valuables.
Features:
Cable lock is perfect for securing bicycles, toolboxes, generators, ladders and more
Flexible, braided steel construction resists cutting
Protective vinyl covering keeps cable from scratching your valuables
Resettable combination offers extra security

No keys for you to lose and other people to find
Can be changed to any code you choose
Specs:
Cable length: 72"
Cable diameter: 1/2"
Limited lifetime warranty
8122D Master Lock Quantum 12 Set-You-Own-Combination, Self-Coiling Cable Lock
Customers compare 8122D to these similar products
Customers Who Purchased This Locks Also Bought...
Customer Reviews
Master Lock Quantum Self-Coiling, Combination Cable Lock - 1/2 - 8122D
Average Customer Rating:





4.0 out of 5 stars (3 Customer Reviews)
- 8122D





by: Doug06/07/2011
Is this review helpful?
Just a good product, well made. 16352
- 8122D





by: D. Rex U.03/25/2011
Is this review helpful?
Here is my setup using the items from my two orders, including the two ant-rattle devices. The pictures aren't that great of quality, since I just used my cell phone (my only camera anymore). Everything works perfectly. 10378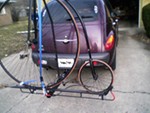 Click to Enlarge
Click to Enlarge
- 8122D





by: Tisa03/02/2011
Is this review helpful?
Oh..boy this cable is heavy. I guess it is really made of the real metal.8248
Ask the Experts about this Master Lock Locks


Do you have a question about this Locks?


I went out into our warehouse and pulled a Master Lock Quantum Self-Coiling, Combination Cable Lock, part # 8122D, and in order to set the combination you will need to follow the instructions below. Dial the combination wheels to 0000 and withdraw the cable. (The lock is preset to 0000 as the combination.) Turn the knob 90 degrees in a clockwise direction to the designated position according to the directions. Reset the combination wheels to the desired combination, making sure the numb
view full answer...