Customer Reviews
Trailer Coupler Lock - Deadbolt Style 7/8" Span - RC6
Average Customer Rating:





4.7 out of 5 stars (29 Customer Reviews)
- RC6





by: Larry11/20/2012
Just what I need to keep my trailer and spare tire in place, thanks. 59814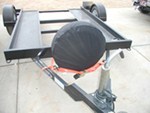 Click to Enlarge
- RC6





by: Mariano G.04/27/2014
This is a great product to have when you have two trailers and your Hitch receiver keyed alike. Etrailer made it happen with one easy call, thanks again! 127574
- RC6





by: Jeff Mc09/30/2014
WhEn I called in I was reminded that I could have this keyed alike with a hitch pin lock I had bought previously. Awesome customer service by Dana!!! 153716
- RC6





by: Jeff04/02/2013
Product is just as described. Seems to be a quality built product. Fits well with the angled surfaces were the flat ones have not fit in the past. 73880
- RC6





by: Lak12/29/2011
Item arrived in a timely manner and was well packaged. The trailer coupler lock works exactly as described and is highly recommended. 28839
- RC6





by: Ron P.03/25/2014
Great service,E Trailer the only ones I have to go to when we need something here at the ranch for the trailers. Thanks 122037
- RC6





by: Chris R.06/13/2014
I bought a hitch lock and two coupling locks. They all arrived on time and keyed the same. Great service! 135529
- RC6





by: Gavin02/21/2013
Great products and super fast deliver. Highly recommended. 67150
- RC6





by: Gary T04/03/2014
Great Products and a great company to do business with 123667
- RC6





by: Paul E08/21/2014
Reasonably well designed product and good price. 147818
- RC6





by: Hugh02/26/2013
the perfect lock 67873
- RC6





by: Maximus03/06/2014
good product 119683
- 7691





by: Tony L.09/06/2013
Review from a similar DeadBolt Deadbolt Style Trailer Coupler Lock
Way better than the master lock version I had previously. I like that the lock end "screws" on. Makes it feel more secure. The master lock I had previously just "popped" on. Also this lock leaves about 1/16" of play on both ends of the rod against the Atwood style coupler. Perfect fit. 98546
Click to Enlarge
Comments
Works perfect everytime. The plastic cap did break off after sometime 6 months?...no big deal. It was held on by a small connecting piece of plastic to the keyed end of the lock. Other than that, its performed its job well and never given me issues. I do squirt PFTE spray into all the locks, hitch coupler latch, etc every so often to keep things lubed and dirt free.

Tony L - 09/08/2014
6731
- 7691





by: Richard C07/31/2012
Review from a similar DeadBolt Deadbolt Style Trailer Coupler Lock
The locks are excellent and work just like the information says they should. The customer service from etrailer is better than excellent. They know what they are talking about and their follow up via email is as good as you can get. 49986
Comments
Absolutely GREAT locks. I now own 4 of them. Very secure, no space left on either side for the bad guys to cut them off. Easy to operate.
comment by: John J - 08/03/2013
1848
- 7690





by: Dave J08/15/2014
Review from a similar DeadBolt Deadbolt Style Trailer Coupler Lock
5th one so far (have 5 trailers), have been using these and the receiver locks for about 8 years without any issue. Great to have all trailers keyed the same and a product that lasts (even through New England Winters). Just purchased another few for the rest of the family trailers/hitches. Superior service and prompt handling from Etrailer as well. 146811
- 7690





by: Heidi C11/02/2012
Review from a similar DeadBolt Deadbolt Style Trailer Coupler Lock
Puchased two of these to secure bikes on the Swagman XTC 2 rack. Fits perfectly in the little hole on each bike arm and they are a nice tight fit. Able to get them keyed alike which is nice. I don't really like that I have to turn the key about 10 times to get the two pieces apart, and hope this doesn't cause wear issues down the road. 58688
- 7691





by: JB06/10/2014
Review from a similar DeadBolt Deadbolt Style Trailer Coupler Lock
This lock appears to be a great product. I had to turn the key cylinder several more turns then the 2 or 3 recommended but by doing so it snugs the the two pieces against the coupler which will deter a saw blade or cutter from accessing the pin. 134954
- 7691





by: Steve E.07/07/2014
Review from a similar DeadBolt Deadbolt Style Trailer Coupler Lock
Ordered this lock keyed alike to my receiver lock, very nice option. Being long it fits all of my trailers with various types of hitches, just the right width for some and a little long for others but nice to have one lock for all. 139625
- 7691





by: Jerimiah06/27/2014
Review from a similar DeadBolt Deadbolt Style Trailer Coupler Lock
This lock works easily and looks OK. Fit and finish is poor and I expect a saw or cold chisel or sledgehammer would defeat it quickly. However it is not expensive and will deter any casual thief. 137969
- 7690





by: Pete F.03/20/2012
Review from a similar DeadBolt Deadbolt Style Trailer Coupler Lock
The product looked to be fine, EXCEPT the lock would not open. After reading about and wrestling with for 30 minutes I returned it. This is not a good start for my first order. 34473
- 7691





by: Pat R.09/01/2013
Review from a similar DeadBolt Deadbolt Style Trailer Coupler Lock
Fits great. We have several trucks and trailers and now all can be secured with just one key. Great customer service from Patrick B. 97817
- 7691





by: Steve C04/22/2014
Review from a similar DeadBolt Deadbolt Style Trailer Coupler Lock
Ordered this keyed alike to match others that I have already. This is a nice lock, and the service from etrailer is excellent! 126661
- 7691





by: art h04/10/2014
Review from a similar DeadBolt Deadbolt Style Trailer Coupler Lock
ordered some trailer security bits and pieces, locks and so forth, arrived lickety split- very pleased, will use them again 124581
- 7691





by: Pete07/31/2014
Review from a similar DeadBolt Deadbolt Style Trailer Coupler Lock
Good product, wasn't the right size for my trailer tongue but that was me measuring it wrong I guess. Still a nice lock. 143757
- 7690





by: Brewzer11/16/2013
Review from a similar DeadBolt Deadbolt Style Trailer Coupler Lock
Great trailer lock. Purchased same lock years ago, had no problems until I lost the keys. 107549
- 7691





by: Desiree N09/03/2013
Review from a similar DeadBolt Deadbolt Style Trailer Coupler Lock
Great lock! It unscrews w/the key so it is a little different lock, but it works good. 97991
- 7690





by: Ted C05/04/2012
Review from a similar DeadBolt Deadbolt Style Trailer Coupler Lock
Great product and super service. 39381
- 7691





by: Jake03/24/2014
Review from a similar DeadBolt Deadbolt Style Trailer Coupler Lock
Simple and effective device. 121880
- 7690





by: Dan H.11/19/2012
Review from a similar DeadBolt Deadbolt Style Trailer Coupler Lock
S ordered 59675
29
29