Bestop Supertop Soft Top for Toyota Land Cruiser FJ40 1964-1984 - Black Denim - 1975 Land Cruiser by Toyota
Bestop Supertop is the industry standard in soft tops, featuring the patented Belt-Rail attachment system, an adjustable bow system, zip-out windows for open-air driving, a tailgate bar for easy cargo access and premium fabric for durability.
Features:
Belt-Rail attachment system for snapless installation
Premium, durable fabric
Adjustable bow system
Zip-out side and rear windows
Tailgate bar for easy access to cargo area
Top replacement system includes fabric top, support bars, hardware and Belt-Rail system
Specs:
Fits Toyota Land Cruiser FJ40 models 1964-1984
2-Year limited warranty
Bestop's Supertop soft tops are the industry standard in convenience, functionality and style.
The Supertop includes Bestop's patented Belt-Rail channel mount system for a snapless, easy installation. Belt-Rail system fastens to top of Toyota Land Cruiser tub and features attachment points for bow supports.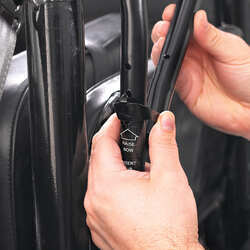 The adjustable bow system makes installing and removing the top effortless. The tension of the metal bows can be raised and lowered, maintaining a perfect fit for the fabric soft top. Hardware is chemically treated and powder coated for a lasting effect.
Supertop is constructed from premium, OE-approved material. With industrial-strength thread, the top is mildew resistant and UV protected. The seams are heat sealed for watertight protection, and tops come in factory-original colors. The fabric stretches during installation, then retains its original shape to fit properly.
All windows are secured with heavy-duty YKK zippers for quick installation and removal. Windows are heat sealed and come in DOT-approved clear vinyl.
Supertop includes a tailgate bar, allowing trouble-free access to the rear cargo area with no need to remove or unzip the rear window.
The Supertop kit includes Belt-Rail system and hardware, bow supports, fabric soft top, zip-out windows, installation DVD and printed instructions.
51464-15 Bestop Black Denim Supertop Soft Top for Toyota Land Cruiser FJ40 1964-1984