Bestop Sunrider Soft Top with Fold-back Sunroof for Jeep Wrangler 1997-2002 - Dark Tan - Jeep TJ, 2001
Bestop's Sunrider soft top features a built-in, fold-back sunroof and also folds down completely for true open-air driving. Top attaches with unique Belt-Rail system for a snug fit, and premium fabric construction ensures durability.
Features:
Convenient fold-back sunroof
Belt-Rail attachment system included
Premium, durable fabric
Zip-out side and rear windows
Tailgate bar for easy access to cargo area
Top replacement system includes fabric top, support bars, hardware and Belt-Rail attachment system
Specs:
Compatible with full steel doors, lower steel half doors with Soft Upper Doors, and Bestop 2-Piece Soft Doors
Fits Jeep Wrangler models '97-'02
2-Year limited warranty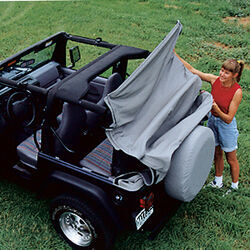 Bestop's versatile Sunrider soft top for Jeep features a convenient fold-back sunroof, engaged with the turn of a quick-release latch. The entire top can also be folded back by one person for a true open-air driving experience.
Sunrider includes Bestop's unique Belt-Rail channel mount system for a fast, firm fit. Belt-Rail system fastens to top of Jeep TJ tub and features attachment points for bow supports. Kit includes Belt-Rail system and all hardware necessary for installation. Hardware is chemically treated and powder coated for durability and rust resistance.
The premium, mildew-resistant fabric constructed from industrial strength thread is designed to hold its shape at any temperature. The top features sealed seams, reinforcements at rear corners to cut wind noise and UV protection to prevent sun damage.
The top comes with heat-sealed side and rear windows, which install and remove effortlessly with heavy-duty zippers. Single-slide zippers on side windows make removal and replacement easy, and dual zipper on rear window allows easy access to the tailgate area. Zippers are covered by a panel that seals quickly to make windows watertight.
Bestop's tailgate bar adds another option for convenient tailgate-area access, making it unnecessary to remove or unzip the rear window to reach your cargo.
Sunrider is covered by a two-year limited warranty, comes in factory-original colors, and includes drip rails above the doors to keep you dry during entry and exit of the Jeep TJ.
The top may be upgraded with available tinted window and door kits.
51699-33 Jeep Sunrider Dark Tan Soft Top with Fold-back Sunroof for Wrangler 1997-2002