Highland Hitch Bike Racks - 1370400
Hold up to four bikes of different shapes and sizes with the V-shaped SportWing hitch-mounted carrier. Aluminum arms won't rust. Sliding cradles grab the bike by the wheels - not the frame - and a telescoping shank for easy loading.
Features:
Carrier holds multiple bike styles simultaneously

Adjustable to fit both adult and children's bikes

V-shaped support arms grab bike by wheels - no frame contact

Removable for compact storage
Lightweight, aluminum construction
Foam pads protect bike frame during transport

Sliding cradles adjust with knobs

Soft foam padding protects bike
Quick-release cradle and wheel straps provide easy mounting

Wheel and pedal straps reduce bike sway
Shank includes sliding extension for easy loading

Operates with knob
Safety cable included to keep extension attached
Shank and extension have durable, powder coated steel construction
Extension can be removed for 2-bike carrier capacity
Hitch bolt and clip secure shank to hitch receiver (included)

Bike carrier assembles easily
Can be used with a hitch on the back of campers, RVs and trailers
Hitch pin and clip included
Specs:
Capacity: 4 bikes
Weight capacity: 160 lbs
Application: 2" x 2" hitches
Distance from center of hitch pin hole to first support post: 15-1/2"
1-Year limited warranty
The Highland SportWing aluminum, hitch-mounted 4-bike carrier offers the versatility and durability of more expensive options at an affordable price. SportWing carries up to four bikes of different sizes and shapes simultaneously - from adult to children's bikes to anything else under the sun.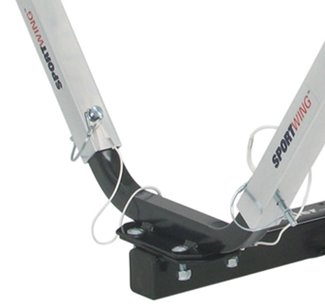 The support arms are constructed of aluminum to resist rusting over time, extending the life of your purchase. The lightweight construction makes removing the arms for storage a breeze - just pull a pin and the arms slide off.
The carrier cradles slide up and down the arms to accommodate various bike sizes and adjust easily with integrated knobs. The cradles feature soft foam padding to protect your bike and quick-release straps for easy bike mounting. Carrier arms also feature pads to protect your bike frame from scratching during transport.
Rubber wheel and pedal straps hold the bike in place during transport. The easy-to-use straps prevent bike-to-bike contact when you are hauling more than one bike.
SportWing has a unique, sliding shank that telescopes out to make loading bikes easier. The shank extension is controlled by a knob and is prevented from sliding out of the shank by a built-in safety cable. The extension can be removed to convert your 4-bike carrier to a 2-bike carrier in seconds.
1370400 Highland SportWing Aluminum Hitch Mounted 4 Bike Carrier - 2" Hitches
Customer Reviews
Highland SportWing 4 Bike Rack for 2" Hitches - Aluminum - 1370400
Average Customer Rating: 4.6 out of 5 stars (25 Customer Reviews)
Hold up to four bikes of different shapes and sizes with the V-shaped SportWing hitch-mounted carrier. Aluminum arms won't rust. Sliding cradles grab the bike by the wheels - not the frame - and a telescoping shank for easy loading.
- 1370400
by: Leonard NESS BRADEN03/30/2013
Ellen, Ext 389, did not actually place this order for me due to an obligatory childcare absence on the day I needed to order. However, she deserves credit for it because of the extraordinary effort she exerted on my behalf on the day prior to my purchase. Using the information she had provided me, I decided that I had only two choices in a satisfactory bike rack: the Highland SportWing and the Yakima Swing Daddy. My 2001 Isuzu Trooper w/ continental kit has a ¾ left-hand door that must swing horizontally over any attached rack. Even the Yakima Flipside lacked that necessary clearance. The Swing Daddy does work but costs 70% more. Considering our current house improvement expense, my choice was evident. Yes, I must remove the inside bike and left-hand support for the door to clear. The effort required is minimal, however, and accomplishes full access to the rear cargo area. That's an excellent cost/return ratio. I will say that I did NOT use the included silent hitch pin to secure the rack to the receiver. Instead, I used my key-locked pin. The fit is just as tight as was encountered with the one provided; and, of course, by using mine the rack can no longer be removed with a simple wrench. I don't know the amount of the cost differential between the two; but I might recommend that the vendor forget about the silent pin and provide the key-locked one instead. That additional degree of security provided both my wife and me with enormous peace of mind. Thus far, I have encountered no other problems with this rack. Loading two adult bikes would be difficult for a single individual, I believe; but at this point I can't envision carrying two them by myself anyway. And I can envision the loading process getting easier with experience. So, yes, for my particular situation the Highland SportWing earns a solid B+. And, again, as I indicated earlier I did work with an exemplary employee prior to making my purchase from this company. I would definitely recommend them as a first-class vendor. 73381
Comments
Thanks for forwarding the review. I am still very much in like with rack and use it often. Have, BTW, had two occasions to recommend the site to others.
comment by: Leonard N - 04/04/2014
3418
- 1370400
by: Doug B.08/21/2011
I bought this rack and a 2" receiver hitch for my 2011 Ford Transit Connect, and promptly left for a 2000 mile round trip to Florida. I develop recumbent bicycles as a hobby, and they are notoriously difficult to carry on a rack due to the odd frame shapes, but this rack has no problems with them at all. The rack was noise free, and holds the bikes very securely. E-trailer shipping was fast, pre-delivery communication was very good. The hitch bolted up with four bolts - a really easy operation. I'd definately recommend this to recumbent bike riders tired of heavy, poor-fitting racks. This one is light, versatile, and stores in a small space. 22397
Comments
From the photo I see you also have a cruzbike quest. I have the same bike. Do the seat and peddles clear the car easily? Any particular advice for carrying this bike?Thank you
comment by: Lisa F - 10/19/2013
2206
Comments
Hi Lisa,This rack carries any of my Cruzbikes with plenty of clearance for seat, pedals and handlebars. I have carried a Quest, Both Silvio V1.0 and V2.0, Sofrider, and a Sofrider set up with 29r tires. I also carry my wifes underseat steering Vision R40 at the same time. Because this is a very wide bike, I use the 4-bike Highlander to carry two bikes.The key to this rack is that it holds the bikes by the wheels instead of the frame, allowing it to accommodate bikes whose frames would be very hard to carry. Because the wheel carriers are very adjustable, just about any recumbent can be accommodated. The velcro securing straps hold very firmly without scratching the bikes up. I carried the Quest and the Vision on a 1400 mile round trip to Orlando with no worries or problems at all. And the rack is lightweight and breaks down into parts easily carried in the trunk or rear section of the carvan.This rack has served me very well.
comment by: Doug B - 10/24/2013
2232
Thanks for following up with us!

Patrick B - 10/29/2013
Comments
I have a 3 wheel recumbent and am still trying to figure out how you did that. I was going to ask if this would be a good one for that purpose and what about ease of putting the bike on and off?
comment by: Mary B - 07/21/2014
5798
Mary, since you have a recumbent trike you may also consider the Hollywood Racks # HR1000R-TRKADP. We have sent Doug an email to see if he has anything else to add.

Rachael H - 7/22/2014
- 1370400
by: Mike M.09/02/2011
I had a hard time finding a bike rack that I thought would work with the assorted bikes we have. 26 & 24 " womens bike (until I buy a mens bike), 20" girls bike and an Adam's Trail-A-Bike. Everything I was reading about conventional racks was suggesting I needed a bike frame adaptor. For these bikes that would have been another $100+. I saw this one, and since it fastens to the wheels I thought it would work for my needs. We just got back from a four day 200 mile vacation and this rack is outstanding! I stopped at 20 and 50 miles to check on it and everything was still in place. etrailer .com was also outstanding! I ordered this on a Tuesday night and had it Thursday (MN to MO UPS). The only down side I had with the rack is that the directions included, and etrailers.com video are different. When loading it worked best for me to follow etrailers, which said to have large bike in front on high hooks (like it shows in their picture). Highlands directions said to have large bike in front on low hooks. The other diference was how to attach the safety straps. etrailer showed to wrap velcro straps around pedals. I found it worked better Highland's way, which strapped the bike frame to the rack post. This kept the bike tight against the post. Also, it took a little trial and error to get the bikes lined up right (however this was my 1st time using any type of bike carrier). Overall I am very pleased with the Highland Sportwing 4 bike Rack, and etrailer.com. 23469
- 1370400
by: Nick M.09/07/2014
The rack arrived a day early, thanks again eTrailer. It was very easy to assemble. The best part is that you can adjust and use this rack anyway you want. The one issue is that if you put a bike on the inside of the rack (right behind the trunk), the bike is too close to the bumper. The bikes are kept high of the ground, and are kept secured with little movement. The rack does stick out very far, but if you are a decent driver its a non issue. We have very large mountain bikes with 29 inch wheels, and they fit perfectly. I tried uploading multiple pictures, but the website only allowed me to upload one. My vehicle is a 2014 Jeep Grand Cherokee Altitude. The hitch receiver I'm using is http://www.etrailer.com/p-75699.html 150332
- 1370400
by: Jeffer10/11/2011
VERY easy to assemble and all pieces align very well. If your bike options don't change (and mine don't, I have a family of 4 and I use the rack for our bikes only), you can set it up to carry the bikes the way you ant them, once, then forget it. I put my kids bikes closest to my SUV, so for those times that I JUST took the kids and their bikes to an event, I would only need to use the rack for two. The extension is set up for my wife's and my bikes, so that's only necessary when we're all heading out together. The best part about this rack for me is how fast it tears apart, including the "wings", and that allows it to fit into a corner of my already packed garage. It takes up very little room. I used a sharpie and labeled the wings (FR or front right, FL for front left, etc.) so the adjustments I made would always be right when I put it back together. I recommend this rack for the price point and flexibility. Sure, there are better racks from Thule and Yakima, but you'll pay WAY more for one that holds 4, and I'll be happier when I pass you on the highway knowing I pocketed a couple $ with mine! 25432
- 1370400
by: Laurence S.07/02/2014
Overall I think the Sport Wing is great. It does exactly what it should do, carry 4 bikes. Out of the box, the rack was easy to put together. Once on the vehicle and loading bikes, thats where things got interesting. We have 4 bikes of different shapes and sizes (18" bmx, 24" mtn bike, 2 26" beach cruisers). Adjusting the hangers to align the bikes to not bang or scratch each other took some time. Once everything was set, subsequent loads were much quicker. To assist with future loads I labeled each are and hanger so I know exactly which bike goes where. Pros: * Carries 4 bikes * Works with any size or shape bike * Fraction of the price of the Thule or Yakima * Lightweight and easy to store * Comes with lots of velco straps to help secure bikes Cons: * Initial setup/alignment was cumbersome, but hopefully just a one-time pain. * Longevity unknown - since it is light weight and breakdowns easily, I'm sure how many miles it will last 138823
- 1370400
by: Chris04/09/2012
We went our 1st trip with the bike rack. The installation went great and the rack worked out great. The best part about the rack is that it can handle any size bike. We have two children of different ages and bike sizes and two adult bikes. This rack was able to handle all 4 bikes of different sizes without any problems. The 1st time you use them it will take an additional 10-20 minutes to get setup, but after that they are set. I would make sure that you have the poles marked to which poles goes into which slot. My only complaints about it (which we knew going in) were: 1. Have to remove the 1st pair of poles (and bikes) in order to get into the back (this is attached to a Honda Odyssey van). 2. There is no way to fold up the rack in order to just leave the bike rack installed without bikes and drive around. You pretty much have to take off the bike rack if you don't have bikes because it hangs too far out the back and would be a hazard. 36587
- 1370400
by: Marnie C03/30/2012
I can't speak highly enough in regards to the customer service I received from this comapny. We make a lot of purchases online and this company is right up at the top of the list when it comes to customer service. My husband ended up installing the bike rack on my 2010 Suburban for me when I went on a last minute group ride...he had it together and ready for me in less than 20 minutes. I was a bit nervous about whether I would be able to manage getting the bike off and on by myself but it seriously couldn't be easier. I was also nervous about hauling it by myself for the first time just in case there were issues with the product but the bike hardly even moved back there. It felt very secure. We haven't had all 4 bikes on it yet but after figuring out how the system works it seems like it shouldn't be too complicated. Would highly recommend etrailer.com and the Highland bike rack as well! 35639
- 1370400
by: Tammie B02/06/2011
I bought this product because I wanted to accomodate 4 bikes of various sizes and weights, including a 50 lb downhill bike, and a childs bike. Also wanted a rack I didn't have to keep on my car in between rides. I have yet to try the child's bike and the 4 bike set-up (used the 2 bike piece only), but so far it's been a good product, lightweight and easy to assemble and disassemble. Because it mounts the bikes on the wheel rims, there is no damage to the frame. My only issues are: the inside bike is a bit tricky to mount, and you have to be careful not to scratch the car paint, but not an issue if it's a lighter bike, or a tall/strong person; and I can't access my rear hatch with the arms on (tho they are very easy to remove), or the rear hatch window with the bikes loaded. I knew this before I bought, but made the compromise for this versitile, well-priced 4 bike rack. 6728
- 1370400
by: Rocco O.03/22/2011
The First Setup of the Highland Hitch Bike Rack - 1370400 Thank You etrailer for the great service. Took many trips in the Summer of 2010. 10099
- 1370400
by: aj08/22/2013
Easy assembly. Holds 4 bikes with ease. Less trouble than our other rack. Etrailer ships fast! I am so pleased with this purchase. If you hate trying to puzzle your bikes onto the other style of rack....try this one. 96338
- 1370400
by: Chris D.10/08/2012
The rack worked great. We got it for our vacation; 400 miles round trip. No problems at all. It does take a bit to get the bikes on. We are a family of four--two adult bikes and two children's bikes. While on our trip we saw someone with a traditional over-the-trunk rack with a women's bike on it. In order to make it work they had to hang the bike up-side down! That won't be an issue with this rack. The customer service was fantastic. I ordered the rack on a Saturday. Within a couple of hours I received an email that it was ready for shipping! The rack was at our door within a few days. 56651
- 1370400
by: Vincent G.07/11/2013
I placed my order late Sunday evening and shipment was received by Wednesday. I like this bicycle carrier because of the versatility of it; carrying different sized bicycles easily. It is easy to set up and easily adjustable. In fact my 8 yr. old daughter did most of the assembly. It is also easy to store since it breaks down to smaller pieces which will fit almost anywhere. I would recommend purchasing a locking pin in place of the hitch pin it comes with, but that is for your own protection. The one sent gets the job done unless you are concerned with theft. 89084
- 1370400
by: Robert W08/18/2013
Great bike rack. Likes: - Assembles quickly - under 20 min with a 1/2" rachet. - Converts from 4 bikes to 2 bikes - Holds the bikes via the wheels, which makes them easier to load and handles different sizes well - Minimal wiggling and bouncing You'll need about 15 minutes the first time only to figure out the best positions for the clamps... 95669
- 1370400
by: Paul F08/24/2012
Easy to assemble and it works great. The ability to quickly change from a 2 bike to a 4 bike carrier is really nice. My old bike carrier supported the bike frames and it really scratched up my aluminum frame mountain bike when loading and unloading. The Highland SportWing holds the bikes wheels and has foam bumpers around the posts which protects your bikes nicely. It also eliminates the need to purchase a $30 extra bar to carry a woman's bike. The only weakness of this product is the lack of a pre-attached security cable and lock. 52853
- 1370400
by: Melhem J.04/07/2014
Excellent product. It was very easy to assemble. Any size of bike would fit. Easy to remove, I thought that I would need a hitch receiver lock, in fact I bought one and I didn`t have to use it, because I removed the whole rack in 1 min and packed it in my trunk. I would recommend this product 124185
- 1370400
by: Roger G.03/28/2014
Very versatile design which will carry most any kind of bike. I happen to have a couple of recumbent bikes which need either a platform or the style of the SportWing which secures the bikes by the wheels. The rack comes with about a 10 inch piece of rubber for each "wing" to protect the bike's frame, which would usually be adequate, but I added about a foot of foam pipe insulation of 1 3/8 ID to cover even more of the aluminum brace. Overall a very good product. 122743
- 1370400
by: R. Thomas03/19/2011
This works well for a variety of bikes. I have a 7 and 10 year old and knew that I'd have several bike changes over the years. This works with all our bikes. I would not recommend buying the extra lock however. What a pain to get it threaded just right! After about 40 minutes of trying, I used just the clip lock that was included and it worked wonderfully. No rattling, no swaying. A good rack without having to buy a ton of extras to accommodate all bike types. 9803
- 1370400
by: Trey W.05/14/2012
This bike rack exceeded my expectations. It is much sturdier than I originally thought it would be. It is easy to assemble and take down. My only concern was that i never saw a picture with four bikes loaded. I was worried that it would be difficult to load all four. This was not the case. We have four full sized mountain bikes and they all fit easily on the rack. 40310
- 1370400
by: Kyle Q06/26/2013
Works great, very little flex or wobble. Only complaint is the lynch pins that hold the arms onto the main body are lightweight (it's only a bike rack) but the spring 'keeper' mechanism is really flimsy, and one already has been lost. Pin was still there, but the keeper fell off in transit. Upgraded to implement grade lynch pins. 86287
- 1370400
by: Alex Bernier03/21/2012
Sturdy design works well with all types of bikes. Really like the fact you can either use it for two bike's or four bike's depending on your needs. Price is also really good found other place's but is more money when you have to pay for shipping but that is not he case here. 34610
- 1370400
by: Dean B.05/25/2014
Works exactly as advertised. Sturdy and we're pleased with its functionality. The only downside is you need to take the arms off to get in the back hatch of a minivan, but the arms remove quickly and easily so it's not a huge deal. Overall great product for the price. 132368
- 1370400
by: Joel04/01/2013
For the price, this is a great option. Love how it can carry all sizes of frames, and can easily switch from 4 bike to a 2 bike option. Also like how the arms can be removed for easy and light weight storage. 73740
- 1370400
by: Mike C.09/26/2011
The second set of bike holders cannot be locked to the rest of the bike rack. Otherwise, I really like this rack. 24678
- 1370400
by: kathryn mendoza12/06/2011
works great for 4 bikes, we are very happy with our purchase 27814
31
31