Draw-Tite Front Mount Trailer Hitch Receiver - Custom Fit - 2" - GMC Sierra, 2014
Easily attach a variety of accessories to the front of your GMC Sierra with this fully welded, corrosion-resistant trailer hitch receiver. Perfect for winches, spare tire carriers and more.
Features:
Front-mount hitch provides attachment point for hitch-mounted accessories

Winch, spare tire carrier, snowplow, cargo carrier and more
No more blindly backing trailer in - just hook it up and drive it forward

Custom fit is designed specifically for your GMC Sierra
Computer-aided, fully welded steel construction ensures strength and durability
Tested Tough - safety and reliability criteria exceed industry standards
Easy, bolt-on installation - no welding required

etrailer.com includes all hardware needed for installation
Complete installation instructions are included

Lifetime technical support from the experts at etrailer.com
Black powder coat finish covers e-coat base for superior rust protection
Sturdy, square-tube design
Specs:
Line pull: 9,000 lbs
Vertical load: 500 lbs
Gross trailer weight: 5,000 lbs
Receiver opening: 2" x 2"
Pin hole diameter: 5/8"
Limited lifetime warranty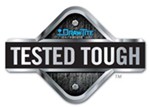 Draw-Tite Tested Tough
Draw-Tite's Tested Tough program provides testing standards far superior to those outlined by the Society of Automotive Engineers (SAE), the go-to source for engineering professionals.
Each Draw-Tite trailer hitch receiver undergoes extensive fatigue testing and static testing with the ball mount that is either supplied or recommended for use with that particular hitch, thus ensuring results that are applicable to real life use. Fatigue testing is also conducted on hitches rated for use with weight-distribution systems.
In addition, Draw-Tite performs static testing on a simulated automobile, as opposed to the rigid fixture used for SAE testing, resulting in a more true-to-life scenario.
etrailer.com Technical Support
At etrailer.com we're committed to the products we sell, and to our customers. Our experienced and knowledgeable staff are available via both phone and email to address your questions and concerns for the lifetime of your hitch. The technicians at etrailer perform hitch installations on a daily basis, making them a valuable resource for do-it-yourselfers. The one-on-one, personal service you'll receive comes straight from an expert in the towing and automotive field. We've installed it, we've wired it and we've towed with it, so whatever your question, we can answer it.
65056 Draw-Tite Front Mount Trailer Hitch Receiver - Custom Fit - 2"
Customer Reviews
Draw-Tite Front Mount Trailer Hitch Receiver - Custom Fit - 2" - 65056
Average Customer Rating: 4.0 out of 5 stars (6 Customer Reviews)
Easily attach a variety of accessories to the front of your vehicle with this fully welded, corrosion-resistant trailer hitch receiver. Perfect for winches, spare tire carriers and more.
- 65056
by: JimM02/20/2013
The hitch arrived on time and in good shape. The install wasn't quite as easy as anticipated. The biggest issue was that the front air dam on my 2011 Chevy Silverado 3500 is pretty low and it limited my ability to move around under the truck. I could have put it up on blocks, but I decided to just deal with the limited space. The cutout of the front fascia was pretty straight forward. Once that was done, I used a floor jack to get the hitch up in place. It was difficult to line up the front holes on the hitch with those in the frame. After much up/down & back/forth I was able to get the original bolts through. The back holes were much easier at that point. One thing that would have been nice to include would have been a wire pig tail to pull the back bolts through the cutout in the frame. Fortunately I had one left over from another project and it made getting the back bolts through a breeze. Before torqueing the nuts down I noticed the hitch did not line up perpendicularly. It is slightly tilted to the rear. I took out as much of the tilt as possible before torqueing the nuts down. I don't think the tilt will be an issue as I'm going to use the hitch to mount a Yakima Dry Dock for my kayaks, but Draw-tite should take another look at their specs and see if any changes are in order. The attached picture gives you a veiw of the tilt. I used the Curt license plate holder for my front plate since the fascia cutout was in the location where the plate used to reside. 67098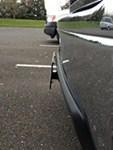 Click to Enlarge
Comments
JimM commented on 0220/2013 his Draw-Tite 65056 did not align perpendicularly to his truck upon installation. Has Draw-Tite resolved this mis-alignment issue? Also, does Draw-Tite include wire pigtails to fish the rear bolts through the bracket after the hitch is positioned?I want to purchase this hitch and install on my 2012 Silverado 2500HD but do not want the mis-alignment issues referenced by JimM.Thank you, Kelvin
comment by: KelvinB - 06/10/2013
1619
Jims review is the only time we have heard of this, seemingly an isolated incident. Of course if you have ordered one that has a fit issue, please give us a call so we can help correct it. Draw-Tite does not include the fish-wires on this application. Since the hitch has to be in position before the hardware goes into the frame, a fish-wire would be of limited help though some would prefer. We do have them available individually, in this case, 1/2 inch bolts, 80101-1.

Patrick B - 6/10/2013
Comments
How far out does it stick through the plastic?
comment by: Jon - 09/29/2014
7035
- 65056
by: KiMO01/11/2012
Delivered by UPS in flawless condition. FedEx has damaged everything I've order thus far and was glad to see a UPS truck for a change. Packaged by etrailer logo outside to withstand practically anything. I removed this very heavy front end hitch with a thick smooth paint job, hardware accounted for and attachment boxed separately so as not to strike the product. As for the quality of this hitch, exceptional! Built tough for a GMC Sierra 2500HD, 4x4 that will see strong duty up to 9000 lbs of wenching as designed. Impressive item, excellent construction, outstanding packaging is proof that etrailer value their customers. Thanks. 29518
- 65056
by: Ken11/26/2013
Purchased this item for my 2011 2500 HD Silverado. With hitch receiver in place 2" receiver is tilted back out of level tremendously. 2" receiver doesn't protrude past bumper fascia enough to even get pin through bar. Hole is behind plastic fascia. Already had a brush guard in place and had to widen front mount by 1/2" to accommodate existing brackets. Don't know how this product is advertised to fit my model truck its unleveled and short after installation. 108521
- 65056
by: bob c12/22/2011
very easy install. fit like a glove to existing frame holes. instructions were cleas and to the point 28538
- 65056
by: Mike07/21/2013
Perfect fit no adjustments needed . Even directions for cutting bumper were correct 90755
- 65056
by: Name09/03/2013
Everything worked out great. Thanks! 97928
7
7