Draw-Tite Front Mount Trailer Hitch Receiver - Custom Fit - 2" - Ford Van, 1997
Easily attach a variety of accessories to the front of your Ford Van with this fully welded, corrosion-resistant trailer hitch receiver. Perfect for winches, spare tire carriers and more.
Features:
Front-mount hitch provides attachment point for hitch-mounted accessories

Winch, spare tire carrier, snowplow, cargo carrier and more
No more blindly backing trailer in - just hook it up and drive it forward

Custom fit is designed specifically for your Ford Van
Computer-aided, fully welded steel construction ensures strength and durability
Tested Tough - safety and reliability criteria exceed industry standards
Easy, bolt-on installation - no welding required

Complete hardware kit and installation instructions included

Lifetime technical support from the experts at etrailer.com
Black powder coat finish covers e-coat base for superior rust protection
Sturdy, square-tube design
Made in USA
Specs:
Line pull: 9,000 lbs
Vertical load: 500 lbs
Gross trailer weight: 5,000 lbs
Receiver opening: 2" x 2"
Pin hole diameter: 5/8"
Limited lifetime warranty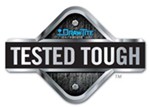 Draw-Tite Tested Tough
Draw-Tite's Tested Tough program provides testing standards far superior to those outlined by the Society of Automotive Engineers (SAE), the go-to source for engineering professionals.
Each Draw-Tite trailer hitch receiver undergoes extensive fatigue testing and static testing with the ball mount that is either supplied or recommended for use with that particular hitch, thus ensuring results that are applicable to real life use. Fatigue testing is also conducted on hitches rated for use with weight-distribution systems.
In addition, Draw-Tite performs static testing on a simulated automobile, as opposed to the rigid fixture used for SAE testing, resulting in a more true-to-life scenario.
etrailer.com Technical Support
At etrailer.com we're committed to the products we sell, and to our customers. Our experienced and knowledgeable staff are available via both phone and email to address your questions and concerns for the lifetime of your hitch. The technicians at etrailer perform hitch installations on a daily basis, making them a valuable resource for do-it-yourselfers. The one-on-one, personal service you'll receive comes straight from an expert in the towing and automotive field. We've installed it, we've wired it and we've towed with it, so whatever your question, we can answer it.
65001 Draw-Tite Front-Mount Trailer Hitch Receiver
Ford Van, 1997 Owners Who Purchased This Front Hitch Also Bought...
1/2" Bolt Leader
$1.05
E-Track Tie-Off Ring, 4K
$4.59
Customer Reviews
Draw-Tite Front Mount Trailer Hitch Receiver - Custom Fit - 2 - 65001
Average Customer Rating:





5.0 out of 5 stars (2 Customer Reviews)
- 65001





by: Johnny M.07/29/2008
Is this review helpful?
A DEFINITE MUST I installed this and rear hitch on my van, easy, used a 2gal bucket to hold other end, plastic under front bumper in middle I just pushed back a little, I use the step mainly in front so I can load ladders,etc on roof racks, put bike rack in front so I can tow trailer, just wish I could get one for my old suburban too1109
- 65001





by: Terry12/31/2010
Is this review helpful?
2004 Winnebago Winnie 31C on a Ford E-450 chassis installation of model #650014833
Ask the Experts about this Draw-Tite Front Hitch


Do you have a question about this Front Hitch?