Draw-Tite Front Mount Trailer Hitch Receiver - Custom Fit - 2" - 2003 Chevrolet Pickup, Silverado
Easily attach a variety of accessories to the front of your Chevrolet Pickup, Silverado with this fully welded, corrosion-resistant trailer hitch receiver. Perfect for winches, spare tire carriers and more.
Features:
Front-mount hitch provides attachment point for hitch-mounted accessories

Winch, spare tire carrier, snowplow, cargo carrier and more
No more blindly backing trailer in - just hook it up and drive it forward

Custom fit is designed specifically for your Chevrolet Pickup, Silverado
Computer-aided, fully welded steel construction ensures strength and durability
Tested Tough - safety and reliability criteria exceed industry standards
Easy, bolt-on installation - no welding required

Complete hardware kit and installation instructions included

Lifetime technical support from the experts at etrailer.com
Black powder coat finish covers e-coat base for superior rust protection
Sturdy, square-tube design
Specs:
Line pull: 9,000 lbs
Vertical load: 500 lbs
Gross trailer weight: 5,000 lbs
Receiver opening: 2" x 2"
Pin hole diameter: 5/8"
Limited lifetime warranty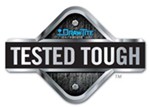 Draw-Tite Tested Tough
Draw-Tite's Tested Tough program provides testing standards far superior to those outlined by the Society of Automotive Engineers (SAE), the go-to source for engineering professionals.
Each Draw-Tite trailer hitch receiver undergoes extensive fatigue testing and static testing with the ball mount that is either supplied or recommended for use with that particular hitch, thus ensuring results that are applicable to real life use. Fatigue testing is also conducted on hitches rated for use with weight-distribution systems.
In addition, Draw-Tite performs static testing on a simulated automobile, as opposed to the rigid fixture used for SAE testing, resulting in a more true-to-life scenario.
etrailer.com Technical Support
At etrailer.com we're committed to the products we sell, and to our customers. Our experienced and knowledgeable staff are available via both phone and email to address your questions and concerns for the lifetime of your hitch. The technicians at etrailer perform hitch installations on a daily basis, making them a valuable resource for do-it-yourselfers. The one-on-one, personal service you'll receive comes straight from an expert in the towing and automotive field. We've installed it, we've wired it and we've towed with it, so whatever your question, we can answer it.
65028 Draw-Tite Front-Mount Trailer Hitch Receiver
Customer Reviews
Draw-Tite Front Mount Trailer Hitch Receiver - Custom Fit - 2" - 65028
Average Customer Rating:





4.9 out of 5 stars (37 Customer Reviews)
Easily attach a variety of accessories to the front of your vehicle with this fully welded, corrosion-resistant trailer hitch receiver. Perfect for winches, spare tire carriers and more.
- 65028





by: Hugh K09/30/2013
Ordered this hitch for my 2005 Silverado 2500HD diesel with factory tow hooks. Mounted it in an half hour from box to installed - remove 4 bolts from the tow hooks, raise the receiver into position on a floor jack and use the supplied, longer, high-tensile bolts and lock washers to bolt it up. Absolutely NO cutting of the plastic facia nor relocation of license plate required. 102057
Comments
The Draw-Tite front receiver for my 2005 2500HD diesel Silverado bolted on easily last year and has given good service ever since. I use it with an eTrailer supplied Thule GoalPost to support my 16-foot aluminum canoe while pulling my 5th wheel trailer.It also makes moving my cargo trailer into its cramped parking spot easy.

Hugh K - 09/30/2014
7053
- 65028





by: Angel S.07/18/2014
This product was installed on my 2003 GMC Sierra 2500 HD pickup. The install took me approximately 15-20 minutes using a floor jack and a battery operated impact driver. No modifications to the bumper fascia were needed, nor was it necessary to remove the factory tow hooks. Although it has not been tested, the build quality seems very well made and capable of performing my intended use, which is to mount a motorcycle carrier and dirtbike. The position of the receiver is rather low (approximately 11.5" from the floor on my stock truck with 265/75/16 BFG AT's), which may make the approach on steep driveways/berms difficult with a motorcycle carrier mounted. A receiver hitch riser may alleviate this concern, however. Untested, I would opine that this tow hitch will more than meet its intended use for me and would strongly recommend this product for its build quality and ease of installation. 142004
- 65028





by: Scott B.10/18/2014
I installed this front receiver onto my truck to help me push my trailer into a narrow parking spot alongside my home. I used to need assistance from a spotter to help me back the trailer in, but now I can push it from the front and park it without any help. Thank you etrailer.com customer service for helping me choose the correct model for my Silverado 3500, and for the extremely fast shipping. I couldn't be more pleased! 156737
- 65028





by: Larry N.05/12/2014
I purchased a front receiver for my 2001 GMC 2500 HD to accept a bike rack to haul my electric bike! I am a 68 year old man with rotor cuff tears in both shoulders & I installed it in my driveway in about an hour! The majority of the time was consumed removing the OEM tow hooks! Now that it on, I think I can replace the tow hooks and use those bolts on the receiver in place of the hardware provided with the hitch! I would recommend this product based on Quality & ease of installation! I hope this is informational! 130169
- 65028





by: Robert J03/22/2013
The product 65028 fit my truck perfectly the instructions and diagrams were very easy to read and follow. I would recommend it to anyone. 71984
Comments
Still very happy with the hitch and would still recommend it to anyone.

Robert J - 09/21/2014
6948
- 65028





by: ChuckO07/03/2014
This product went on without a hitch. This was to carry my bicycles for camping. I can also mount my winch on the receiver as needed very easily. I did drill the 1/2" holes in the side of the truck to 9/16" and that helped. I put it on alone without a jack to push it up in about 1/2 hour. I was concerned about having to cut the flaring away but it was flexible enough to just push it up a bit. I was going to build my own but that would have been nowhere as nice as this one. I really like the powder paint. It's perdy. I like the fact you can only see the square tube from standing in front of the truck. I would definitely recommend this to a friend. 138921
- 65028





by: Jason L.07/09/2014
Took it camping over 4th of July hauled my firewood did not have to buy any at campground saved me money and it will be well used. Thanks E-Trailer best investment this year. Thank You Jason L. 140179
- 65028





by: Dennis C05/08/2013
This bolted right up to the frame. I had factory towing hooks so it was just as easy as removing four bolts and replacing them with the included longer bolts. Just need to support the hitch while you start the bolts. It took about forty five minutes. Product was shipped fast and was packaged very well. Good follow up from etrailer. 79438
- 65028





by: Dave M.06/12/2013
Have a 2006 Chevy Silverado Duramax Diesel. This fit the truck great without having to modify or adjust anything. Bolted on easy enough...but crawling under a truck is never that easy for me. But overall, would buy again. Gives me the option to carry bicycles on the front of my truck while towing my 5th wheel. 84270
- 65028





by: pat r06/20/2014
took all of 15 minutes to install. the hardest part was dragging the floor jack to the front of the truck. the front hitch is used for carrying a 385 pound suzuki dr 650 dual sport motorcycle. no holes to drill just remove two bolts on truck position hitch and replace the bolts with the new bolts provided. 136811
- 65028





by: Frank12/06/2012
The Draw-Tite Front Mount hitch is exactly what I needed. It is a perfect fit and was relatively easy to install (once I went and purchased an 18mm wrench). Etrailer.com's service, price, and speedy delivery were outstanding. I will definitely keep them in my list of preferred vendors for future purchases. 60818
- 65028





by: carlos07/22/2014
Went on in less than 20minutes from box to completed project! Great for use in maneuvering my boat back into a tight garage spot, couldn't do it with out it. Would have liked it to be a little higher for ground clearance and maybe make it a little less visible but otherwise very happy with product! 142612
- 65028





by: Russell02/01/2013
Finally warmed up enough to get the unit installed. Everything worked as planned. Now to try it out and move my boat down the ramp with ease. Have to wait for lake to thaw first. Thanks for handling my needs. Will recommend your site to others and also use again for my wish list. RDH 64761
- 65028





by: Mike C.07/31/2014
took only 25 mins to do install very easy/very simple/high quality 1 issue the box the receiver came in was in pretty bad shape 2- 12x6 holes. No damage to part/receiver so all good no need to remove factory tow hooks. Would recommend to others for ease of fit and quality/price 143893
- 65028





by: Quinton L05/14/2014
Arrived quickly and fit perfectly. Excellent quality. What more could you ask? 130569
- 65028





by: Kevin B.09/23/2014
Shipping was very prompt and the receiver mounted easily to the frame of my 2003 Silverado 2500 HD. The job took about ten minutes including torquing the mounting bolts to specs provided with the hitch. Time will tell how the hitch holds up to our coastal weather. Thanks. 152631
- 65028





by: Brian H.02/24/2014
Great product, easy 20 minute install, nice fit no trimming needed, bottom of air dam fit right over hitch gusset plate for a clean look, and the reciever it is tucked up underneath so you don't knock your shins when checking underhood fluids. Fast shipping... 117354
- 65028





by: craig10/20/2012
just installed today easy to follow instructions and very easy to understand took around 25 minutes to install great product and i didnt have to hack into my frame to make holes i would recemend this to my friends and coworkers 57761
- 65028





by: E.B05/30/2009
Great Item Great product. all the bolt holes lined up perfectly, truly a no drill install. Trimming the fascia was not nessesary on my 2005 2500HD 4x4. (I just wish I would have known that before hand..) 1910
- 65028





by: Louie08/13/2008
Fit well. It took about an hour to install. You really don't have to remove to recovery hooks. Just the bottom and inside bolts.It looks great on my 2005 Chev HD and I didn't have to trim the fascia. 1165
- 65028





by: 00Silverado04/15/2007
Excellent Receiver Very easy to install, less than 20 min to install, I have and aftermaket valance witch had to be trimmed but if you take your time it looks like a professional did the job. 131
- 65028





by: John M11/14/2011
Went on easily. And I was able to keep the factory tow hooks on the vehicle. So far, so good. Now I get to see how well it works backing my 25 ft boat up a twisting driveway... 26953
- 65028





by: Dan K.08/23/2013
Installation was easy, maybe half an hour. Used a floor jack to hold it in place and easily bend the front air dam ever so slightly. The bend in the air dam is not noticeable. 96529
- 65028





by: Dan10/08/2012
Product was delivered timely and installed easily, perfect fit, as advertised, no trimming was required on front fascia as it fit on top of the receiver 56657
- 65028





by: John C.10/20/2014
Package arrived regular shipping very quick. Installed the next day in just about an hour. Very happy overall. John 156815
- 65028





by: Jeff B.02/06/2014
Product arrived early and in excellent condition. Installation was very straight forward - took less than 30 minutes. 115876
- 65028





by: Mike J07/17/2014
Product arrived very promptly and as advertised. Installation was easy with the use of a jack to hold the unit. 141870
- 65028





by: Eric B07/03/2009
Fast shipping and easy install Had to trim about 1/2 inch of plastic off on my 2500HD but it bolted up perfect. 2088
- 65028





by: Jeff Magner05/08/2014
I Haven't had a chance to bolt it on yet but I have crawled down and see that it is a perfect fit! 129685
- 65028





by: Robert Huseby06/13/2012
etrailer had a very good price on my Draw-Tite front mount hitch, Delivery was fast and efficient. 43927
- 65028





by: Kent H.03/26/2014
Shipment was fast and the instalation was easy! Took 30 min to install. 122360
- 65028





by: Matt W.08/15/2014
The hitch bolted exactly in place utilizing the stock recovery hooks. 146915
- 65028





by: joe fox06/01/2011
great product and great service very easy to install. thank you joe fox 15891
- 65028





by: Kim10/23/2007
prompt del, would order again product ordered fit perfect.No Problems 461
- 65028





by: Craig W08/08/2014
Great product and super fast shipping. Thanks Julie.. 145287
- 65028





by: Sue11/10/2014
Easy transaction. Exact part 160156
- 65028





by: TK04/13/2007
Simple! Great and Simple! 128
38
38