Call 800-298-8924 to order Surehoof Enclosed Trailer Parts part number 3622RM or order online at etrailer.com. Free expert support on all Surehoof products. Guaranteed Lowest Price and Fastest Shipping for Ribbed Rubber Trailer Mat - 36" x 22'. Enclosed Trailer Parts reviews from real customers.
Ribbed Rubber Trailer Mat - 36" x 22'
Code: 3622RM
Price:$239.95
Shipping Special
Shipping Weight: 46.04 pounds
Surehoof Enclosed Trailer Parts - 3622RM
Rubber Trailer Mats are used on floors, walls and dividers. The advantages of rubber mats are many: lessens sore legs, reduces swollen hocks, a nonporous surface reduces odors, easy to clean, reduces moisture in hot weather, dust in dry, and acts as good insulation from cold and sound.
5/16" Thick
36" wide x 22' long
3622RM Surehoof Rubber Trailer Mat
Customer Reviews
Ribbed Rubber Trailer Mat - 36" x 22' - 3622RM
Average Customer Rating: 4.7 out of 5 stars (3 Customer Reviews)
- 3622RM
by: Temple T.06/07/2012
Thank you. The mats are great! They are for my new horse trailer! 43169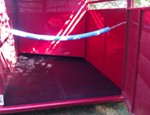 Click to Enlarge
- 3622RM
by: Lee s11/27/2014
Great products and fast shipping 162667
- 3622RM
by: alcides.c11/30/2014
The product was good 162754
3
3
Info for this part was:
At etrailer.com we provide the best information available about the products we sell. We take the quality of our information seriously so that you can get the right part the first time. Let us know if anything is missing or if you have any questions.