Curt T-Connector Vehicle Wiring Harness with 4-Pole Flat Trailer Connector - 2013 Toyota RAV4
Quickly and easily install a 4-way trailer connector on your Toyota RAV4 with this custom harness. T-connector plugs directly into existing wiring. Powered converter reduces strain on wiring system and is made using SMT to ensure superior performance.
Features:
Provides a 4-way flat trailer connector at the back of your Toyota RAV4 to power your trailer's signal lights

Compatible with 5-pole, 6-pole and 7-pole adapters (sold separately)

Connects quickly and easily

Locate connection points in rear cargo area
Plug in T-connector
Run hot lead to car battery

Includes a tail light converter to ensure that your Toyota RAV4's wiring matches that of your trailer

Powered module connects directly to battery to avoid overloading

Toyota RAV4's

electrical system

Constructed using surface-mount technology (SMT) for consistent, reliable performance

Maximizes trailer light yield and intensity while producing minimal heat
Ensures superior operation in rough road conditions

Comes with dust cap for 4-way flat connector
Made in the USA
Specs:
Maximum amperage:

Stop/turn lights: 3 amps per circuit
Tail lights: 6 amps per circuit

Limited 1-year warranty
Installation
This custom-fit T-connector plugs into your Toyota RAV4's wiring harness, which is located in your rear cargo area. You will have to remove interior trim paneling to access these connection points. Once you've plugged in the T-connector, run the hot lead up to your car battery. Connect the lead to the included fuse holder, and then connect the fuse holder to the positive terminal on your battery.
Once installation is complete, the 4-way connector will be stowed in an out-of-the-way location within your cargo area.
It is recommended that you use a small amount of grease on all electrical connections - the plugs on your automobile and the 4-pole connector itself - to help prevent corrosion.
Powered Tail Light Converter with Surface-Mount Technology
A tail light converter is built into this T-connector. This converter is a circuit-protected, battery-powered unit that bypasses the electrical routes that are used by a basic wiring harness. As a result, there is virtually no draw on your tail light circuits.
Because most trailers run on a two-wire system - wherein the brake and turn signals are carried on one wire - the separate brake and turn signals from your Toyota RAV4's three-wire system need to be combined so they are compatible with the wiring system of the trailer. This converter combines the brake and turn signal functions of your automobile so that they run on one wire to properly activate your trailer's tail lights. Note: This will not affect how the tail lights on your Toyota RAV4 operate.
Curt builds each tail light converter using surface-mount technology (SMT). This method of construction involves soldering electronic components directly to the surface of a printed circuit board. SMT eliminates the need for leads, which are used in older through-hole technology. The result is a circuit board that is smaller yet provides more routing area and that offers superior performance, reliability and durability.
Circuit boards constructed using SMT have been shown to perform better under rough conditions with excessive vibration than those made using the through-hole method. And where would vibration be more likely to occur than in towing applications? Curt converters also produce less heat, leading to increased durability and longer life. In addition, lower levels of resistance ensure better performance, especially for parts that operate at higher frequencies.
Each Curt circuit board is made using high-quality components that are pieced together in the most technologically savvy fashion, leading to greater predictability and reliability in functioning.
56166 CURT T-Connector - Surface Mount Technology - 4 Wire
Customer Reviews
Curt T-Connector Vehicle Wiring Harness with 4-Pole Flat Trailer Connector - C56166
Average Customer Rating:




4.5 out of 5 stars (20 Customer Reviews)
Quickly and easily install a 4-way trailer connector on your vehicle with this custom harness. T-connector plugs directly into existing wiring. Powered converter reduces strain on wiring system and is made using SMT to ensure superior performance.
- C56166





by: Ronald04/01/2013
The harness arrived in good condition and fairly quick, since it is a new item for the 2013 Rav 4. The install is not exactly easy. It took myself and a friend (an Aircraft A&P mechanic) 4 hours to complete. We were being careful not to break any interior plastic which added to the time. My wife did not like the idea of hanging the connector out the hatch so we decided to run it our the bottom next to the spare tire through a rubber grommet ..then sealed the grommet with silicone and mounted the flat connector to the provided are on the hitch. It might be helpful to test the connectors provided with the harness before trying to disconnect the connectors on the vehicle. The vehicle connectors are in a very tight spot and trying to unlock the tab is not easy. Pictures of how to unlock the tab connectors on the instructions would have been helpful. I thought it would be a good idea to teat after the install with a volt/ohm meter. To my surprise, I had 12V at each leg without anything turned on. We then connected the trailer and all worked as expected. We still don't understand it but it works just fine. Some serious magic in that little black box LOL. Ron 73681
Comments
That is exactly why we work so hard to have videos of our products. Sometimes a different look can make all the difference in an install. As soon as we have a 2013 RAV 4 come through our shop, we will have wiring videos available on the site.

Patrick B - 04/04/2013
1283
Comments
Getting a 2013 rav next week. Any additionall light you can shed on removing plastic pcs. or where you ran hot wire would make me forever in your debt. I am a little bit of a detail frek also.Thanks.Mike
comment by: mike - 04/11/2013
1356
I will pass your question along to Ronald. Keep an eye on this review in case he decides to follow up.

Patrick B - 4/24/2013
Comments
Mike,One suggestion I have for removing the plastic interior panels is to purchase a set of nylon pry bars designed for this purpose. I used these from Harbor Freight tools:http:/www.harborfreight.com/4-piece-nylon-pry-bar-installer-kit-69668.htmlinexpensive and worth every cent!Along with the screws and bolts mentioned in the instructions, there are many plastic retainers that will be pulled straight out to remove. Be careful not to them since the do slide out of their mount brackets.I ran the hot wire to the battery through a rubber plug under the spare tire and under the Rav to the front. There are plenty places to tie wrap along the way forward and secure it. I did run it through a hole in the frame and made sure to use a grommet to assure that it did not chafe and short out.I also ran the 4 way plug through the same rubber plug under the spare and routed it to the tab on the hitch and secured it. All wires were then sealed with silicone on the rubber plug.I hope some of that is a help for you.Ron
comment by: Ron - 04/25/2013
1453
Thanks for the follow up Ronald!

Patrick B - 4/25/2013
- C56166





by: CJ09/04/2013
Installed nicely but the instructions were a little vague on where to best mount the module for the RAV4 and where to put the ground screw. I put the module on the flat-ish spot on the driver's side in front of the tail light. I put the ground screw in the 3/4" joint running up the door frame behind the panels and I just used the self-drilling screw to make the hole. The edges of the panels you pull out have sharp spots so be careful to not get little cuts and scrapes. as you're reaching in for the connectors. I ran the power cable inside the RAV4 and pushed it through the big rubber boot under the driver's dash. (using a long springy rod to get string through to pull the wire.) From there it was an easy run to the battery. All in all it wasn't a bad install at all. It took some patience and rereading the instructions a few times to get it done but very doable. Don't rush if something doesn't look quite right because the instructions are correct if a little vague in spots. 98149
- C56166





by: Rich Stro09/25/2013
The Trailer Hitch apparantly had been damaged in shipment because the spacing between the mounting holes was too close by 3/8". I had to use a Hydraulic bottle jack and 4x4 wood block to expand the mounting pads so they wold fit. I think they need to put some foam in the packaging.. so when shipper drop the box it doesn't cause the mounting plates to get closer.. Other than that no problem only took 15 minutes to install 101421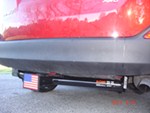 Click to Enlarge
- C56166





by: vern06/23/2014
thanks to the guy suggested plastic trim tools from harbor freight they were helpful, drivers side T connector wires need to be longer as would not let me put convertor box in a good place so I extended them. ran battery wire in side vehicle tucked it under plastic door trim and put through firewall where wire bundle and hood latch went through used screwdriver to punch hole and small electricians fish tape to feed wire through. overall very pleased with kit and instructions. installed on 2014 Toyota rav4. if you are not used to working on cars/mechanics it may be a bit much to do. 137253
- C56166





by: Lee C.03/20/2014
Last time I purchased from etrailer was 9 years ago until this time and as I remember all was 5 star back then also. As usual an excellent online buying experience from etrailer.com. Product arrived in 3 working days and was the correct hitch plus the wiring harness for my 2014 Rav4. High quality products which makes even installing a trailer hitch no problem. I did think I should have received the Curt receiver hitch plug as I have on other trailer hitches. The cost to ship a plug now costs less than the shipping. The only bummer on the whole deal. 121396
- C56166





by: TC05/21/2014
2014, RAV4 just installed, checks out ok. Took while removing interior molding and running wire to battery. Wire harness was EZ with the T-connectors. Even though etrailer.com website has much info on installation, I still called asking for help, customer service was helpful and understanding. Just wish that the power converter was designed to be more accessible/replaceable in the event it should ever malfunction. 131666
- C56166





by: Brent Frazier03/12/2014
Hitch installed in less than 15 minutes with another pair of hands. The electrical harness was a bear, though. The connectors were difficult to disconnect because of the tight space. Went well from there, though running the wire to the battery was interesting. I ran the wire through a hole punched in one of the tire well drain plugs, then sealed with silicone. Electrical took about 3 hours. Works fine. 120418
- C56166





by: Steve01/17/2014
Installed this product on a 2013 Toyota Rav4. This wound up being one of the more enjoyable parts of adding a trailer hitch to my new car. The unit was pre wired with Toyota connectors so all I had to do was plug it in. Fortunately, the interior panels that needed to be removed were no problem on the Rav4. Other vehicles may be more problematic but it works as advertised 114093
- C56166





by: June B.02/24/2014
Received hitch in a few days. Fit perfectly. The recommendations I received from Katie D were exactly what I needed to make my decision. Product arrived in perfect condition. Very pleased with product and service. Have recommended your site to someone else who needs a hitch. Thanks for your help. 117373
- C56166





by: Donald Drouin09/04/2013
My box was delivered and the top of the box was opened and then re-taped by someone. I asked the UPS guy if all the parts were there and he said "I hope so". I have not had the time to go through the box but I will at my earliest convience. 98167
- C56166





by: Randy P.09/12/2014
Got the hitch & wiring harness kit in very short order. Put hitch on in half hour, wiring took about three hours. Keep in mind I'm 72 years young, so I'm very happy with E-Trailer products and instructions. Thank you E-Trailer !! 150874
- C56166





by: Gene F.03/06/2014
This takes the longest time to do because on the RAV 4 you have to remove the rear side panels. The left side wires could be longer so you can mount the convertor box in spare tire compartment. I spliced longer wires on mine. 118610
- C56166





by: Patrick04/13/2013
Super fast service. This is the way businesses are suppose to be run. Ordered on a Sunday delivered and installed by Thursday. Everything was there and in perfect shape. Will be ordering more. Thank you. 75733
- C56166





by: Jim MIko04/02/2013
Fit my 2013 RAV 4 as advertised. Easy to install except for the line to the battery, that was a pain. I ran the line from the battery through the interior of the car as it is more protected. 73807
- C56166





by: Jeff B04/29/2014
This wiring harness was actually surprisingly easy to install. The directions were very clear about how to properly and safely connect the wires to the tail lights and to the battery. 128164
- C56166





by: Manny B.04/14/2014
Hitch construction and finish look great. Installation was a snap, as advertised. I did it alone with the Rav4 up on ramps. Haven't towed yet but expect no problems. 124948
- C56166





by: J. Ledoux03/06/2014
This is my second order curt T connector set . The first one easy I and this second one should be the same. the shipping good and thank you for your concern. 118603
- C56166





by: Scot S08/25/2013
Save alot of time .. Better then do-it selfer and piecing it together 96831
Comments
Which hitch and wiring kit do I need for a 2014 Rav4. The hitch will be a class II.
comment by: Larry - 03/20/2014
3193
I have added a link to all the hitches that will fit a 2014 RAV4. There is only one Class II 1-1/4 hitch offered, from Curt. Most of the hitches offered are Class III 2 inch hitches. I would strongly encourage you to consider a Class III, 2 inch hitch instead of a Class II. There are far more options as far as bike racks and cargo carriers for 2 inch hitches. Even if you will not ever need the towing capacity, a Class III 2 inch hitch will be more versatile. Curt offers a plug-in wiring harness, part # C56166

Curt T-Connector Vehicle Wiring Harness with 4-Pole Flat Trailer Connector
$63.45. You will need to run 1 wire all the way up to the battery and use the crimp connectors to make the connections. This separate power wire enables the entire trailer wiring system to isolate the power draw off of the vehicle.

Patrick B - 3/21/2014
- C56166





by: Robert Prokopchak07/28/2014
Was thankful you had a on line ability to watch how to put in thank you would never been able to find the connection to hook up to with out it. 143238
- C56166





by: Bryan05/19/2014
Once you figure out how the panels come apart it was very easy. Just have to take your time so you don't break any of the interior body panels. 131290
22
22