Convert-A-Ball Bed Extender - KG54-Gray
Patented, multipurpose Kwik Gate helps you haul ladders, building materials, gas cans, and other bulky items securely. It also offers a handy step up into your truck bed and works with your tailgate to extend your truck bed.
Features:
Extends the usable space of your pickup by the length of your tailgate
Makes hauling simple and safe

Secures large or tall items, such as ladders, paneling or drywall
Provides framework for tying down bulky items
Nestles gas cans to help prevent spillage

Provides easy step up into truck bed
Makes a great footrest for tailgating parties
Installs easily - center section removes in seconds
Measures 54" wide
Comes in gray
2-Year limited warranty

Convert-A-Ball's Kwik Gate works as a bed extender and offers an extra layer of security when you are transporting large, flat items such as drywall or paneling.
Whether up, down or extended, Kwik Gate helps you transport your cargo more safely. In the raised position, it steadies tall items. Folded back into the cab, it keeps gasoline containers or ladders right where you want them. It works great for transporting bikes and motorcycles, too.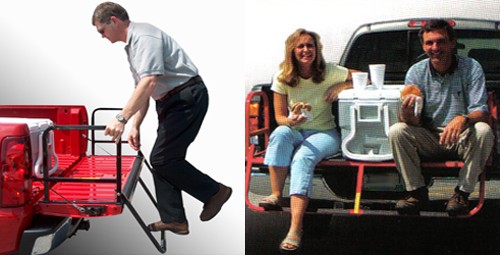 Not only a versatile workhorse, the gate adds convenience and fun to your life, too. Go ahead and grab one of the sturdy side handles to take the "grunt and groan" out of climbing up into your truck bed. Or better yet, sit and relax at lunchtime, using the rail as a foot prop. Excellent for tailgating parties!
Warning: Do not operate your truck with the gate in the down position. Always stow the gate before moving your vehicle.
KG54-Gray Convert-A-Ball Kwik Gate - 54" Wide
Ask the Experts about this Convert-A-Ball Bed Extender


Do you have a question about this Bed Extender?


The Convert-A-Ball Bed Extender, part # KG48, which is 48 inches wide and KG100, which is 57 inches wide are both available in black. The 54 inch model is available in red, as well. That part # is KG54-Red. The tailgate step portion of the Convert-A-Ball Bed Extenders have a 400 lb weight capacity.
view full answer...