Roadmaster XL Base Plate Kit - Removable Arms - 2000 GMC Sierra
The XL series hidden brackets attach to your GMC Sierra's frame to provide attachment points for your tow bar. The visible portions of the brackets can be removed when you are not towing.
Features:
Hidden bracket design - drawbars are easily removable via 2 pins

Improved aesthetics compared with standard brackets

Computer-cut, all-steel construction provides exceptional strength
Black powder coat finish is durable and corrosion resistant
Simple installation - no welding required

Custom base plates ensure a perfect fit for your GMC Sierra

Compatible with Quick Disconnects and all Roadmaster tow bars
Instructions and mounting hardware included
Made in the USA
The square drawbars, or front arms, on the XL series base plate kit are simple to mount and remove, easily securing with hitch pins. Once the drawbars have been removed, the remaining brackets are virtually invisible. On most automobiles, the brackets are mounted within the grille, where they remain not only unseen, but protected from scrapes and scuffs as well.
Frame Variance Measurement Diagram
Measurement must be taken from the centerpoint of the lower-most threaded hole, on the side of frame, to a center-line dissecting the rear-most elongated hole on the bottom of the frame.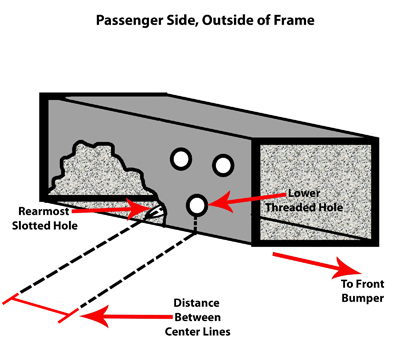 131-15 Road Master XL Base Plate Kit