Customer Reviews
Rapid Hitch Adjustable, Aluminum Ball Mount Kit w/ 2 Zinc Balls - 10" Drop - AM3414
Average Customer Rating: 4.9 out of 5 stars (180 Customer Reviews)
Tow up to 8,000 lbs with supreme safety and the convenience of an adjustable 10" drop and 11" rise with the Rapid Hitch ball mount system. Includes zinc-plated steel ball combo (1-7/8" and 2"). Fits 2" hitches.
- AM3414
by: Garrett08/11/2015
Product looks and feels great. Only reason it got a 4/5 is because a truck driver friend of mine told me that he had one and the shank wore down from rubbing on steel bc of the aluminum on steel receiver contact. I might rig up a thin steel collar for it to prevent any degradation down the road. Works great on my truck with 7 inches of lift and 35" tires. Buy the Andersen Stainless steel locking pins for it so it doesn't walk off. New pins have better corrosion resistance and are less easily picked by thieves than standard barrel locks, plus they match the look. 218532
Comments
After a year of use I love it. I hear too many problems from friends with other hitches and Im very satisfied with this purchase. It has stayed clean and shiny with just normal car washing and it still adjusts up and down smoothly. Still plenty sturdy and no more wiggle on the shaft then it had when I got it. Highly recommend getting the upgraded stainless steel locking pins from Andersen. Both locks are matching for each pin and far more secure than the standard barrel locks.

Garrett - 08/18/2016
20368
- AM3414
by: PaulO09/30/2014
Great quality Ball Mount Kit. I had read review about not being able to mount it upward on the RAM2500 because the bumper was out by 1/2" too much. In my case it's about 1/8" off but my truck is very high (That's why I got the 10" kit) and I can't imagine ever using it in the upward position anyway. It does rattle a lot but I think I can fix that with some thin rubber strips. It shines so much that now the hitch attracts attention more than the truck, make sure you get the lock pins if you don't want to get it stolen... 153792
- AM3414
by: Mark H.01/23/2012
Have not towed yet so can't speak about performance however hitch appears very solid. I can say that its very trick. Who doesn't love machined billet aluminum. I sprung for the locks as well since it's not exactly cheap. I will say that etrailer had the best price I could find on the web. Shipping was fast and free with great communication. 30166
- AM3414
by: Eric S.08/01/2013
just as described... would recommend to anyone... 92677
- AM3410
by: Sasha J12/08/2012
Review from a similar Andersen Rapid Hitch in Ball Mounts
This is a really nice hitch if you tow a variety of trailers or need to get your ball up high as I need to do on my 1999 F450. I needed the ball up high to level my Jeep tow bar, so this is just the ticket for me. This hitch is made in the USA, which is great too. eTrailer.com service is excellent and their communication perfect. They obviously care about their customers and the product. Only 2 things prevent a 5 star rating for this very pricey hitch. IMO, for the money, the manufacturer should also include: 1. a lock pin for the adjustable hitch ball. 2: an anti-rattle attachment. 60970
- AM3405
by: R. Smith04/21/2011
Review from a similar Andersen Rapid Hitch in Ball Mounts
I ordered my AM3405 and was amazed how quickly the etrailer team responded with not only my order confirmation but the fantastic follow up when it was shipped and delivered. I highly recommend etrailer and will order from them again. The product showed up in great shape and I am very happy with the quality. One recommendation would be to order two of the locking pins. One for the receiver and one to lock the ball mount to the unit. You will see by my picture I resolved that issue with a pad lock but the locking pin would have been better. 12115
- AM3410
by: Sean S.03/05/2017
Review from a similar Andersen Rapid Hitch in Ball Mounts
Works flawlessly. I was very excited the day I got home and my Rapid hitch was on the front porch. It came in nice box and was packaged very well. I opened it up and unpacked my rapid hitch and I was very impressed with the quality and precision of this hitch. All of the machining was PERFECT and everything fit together right. I put it in my truck right away. Going down the road with the trailer on and off there is absolutely no rattles, clunks, or jolts. I also love how everything is aluminum or stainless steel, NO RUST. I wish I could've gotten the greaseless model but my boat is too heavy. My only complaint is that it doesn't come with locking pins. With a hitch this expensive I really wish it came with them. Do yourself a favor and order them with your rapid hitch so you don't have to pay for shipping in the future. Other than that great product and I believe it will outlast me. 348659
- AM3410
by: Eric J11/24/2014
Review from a similar Andersen Rapid Hitch in Ball Mounts
Needed an adjustable hitch for my TaB trailer. This will be perfect. Great-looking piece of equipment. Easy to find on website, great prices, fast, fast shipping! Awesome! 162376
Comments
Ive been stopped more than once in a parking lot by someone asking about my hitch & dual lock set-up. I refer them to your site! The hitch works great and the fact that it can be raised/ped is the main reason for the purchase. The dual locks with a single key is handy! A good pair of chocks is needed in every garage for the home mechanic and for camping with a trailer. They smell terrible for a while, just dont store in your car/trailer camper. Money well spent. Your site is my first stop for my trailer needs! thanks!

Eric J - 12/08/2015
16087
- AM3410
by: curtis03/19/2013
Review from a similar Andersen Rapid Hitch in Ball Mounts
After buying two different fixed ball mounts at hardware stores, I bit the bullet and bought this beauty. I wish I had just started with this ball mount - it costs more but is well worth the money if you have multiple tow vehicles or trailers with different hitch heights, or loads that vary and compress your suspension different amounts. The materials and workmanship are excellent. Switching ball heights or ball sizes is a breeze. This thing is so nice I almost feel bad hooking a trailer to it! Don't forget to buy two locks. Although the product is excellent, etrailer.com is even better! Every time I purchase something from etrailer I get the fastest response, the best communication, the fastest (even early) delivery, and most reasonable prices I've ever had at any store or online retailer. In a world where customer service has taken a back seat to making money, etrailer.com brings back the good old days and exceeds my expectations every time. I can't say enough good things about etrailer, and I'm a compulsive and very picky person. 71588
- AM3410
by: Norm L.08/04/2015
Review from a similar Andersen Rapid Hitch in Ball Mounts
Very good craftsmanship in designing and manufacture of a well made adjustable ball mount hitch. It is easy to adjust so you have a level load. The two hole shank was great to get the load closer to my F-150 and allow me to level the load while keeping the proper tongue weight applied. I use it with my 2014 F-150 and 20 Ft. flatbed primarily to haul my utility tractor and bush hog. 216722
Comments
I am very pleased with it.

Norm L - 08/03/2016
19889
- AM3411
by: GARY06/17/2013
Review from a similar Andersen Rapid Hitch in Ball Mounts
Unconventional use 85007
Comments
Works great on back of my tractor. Makes moving different trailers easy with adjustable height. And easy to take off when not needed

GARY - 06/17/2014
4936
- AM3410
by: Randall06/11/2016
Review from a similar Andersen Rapid Hitch in Ball Mounts
Wow! Just ordered Wed & rec'd today (Friday)! AWESOME! I believe this was shipped the same day I ordered. Very well done! As for the product...looks very good! I can't wait to put it to work. I have two different trailers that I plan to use this with. I love the fact I can switch sizes VERY easily. Looks well made & it is HEAVY!! I'll share pic's after a year of use. My ONLY suggestion would be during the purchase process...why not suggest the locking pins that are also suggested on the box the hitch came in? I would've purchased them had I seen them. (If they were suggested, then your site didn't make them stand out very well during the purchase process). Now, if I want to purchase them from you I have to pay shipping. :-( That's my only suggestion. BTW...love that the product is made in the USA! :-) 260182
- AM3410
by: Craig H05/16/2013
Review from a similar Andersen Rapid Hitch in Ball Mounts
Only just received this item, but it seems to be very well made and was not any problem to install and adjust to the desired height. Thanks Craig H 80565
Comments
Thanks for the follow up. The product is still working as good as new. No problems. I am very pleased with this tool. Craig Hillman

Craig H - 06/27/2014
5172
- AM3413
by: Leon D08/08/2014
Review from a similar Andersen Rapid Hitch in Ball Mounts
Hello The hitch works great as viewed in the enclosed pictures. If inverted it hits the bumper, of my Dodge 2500. The section that goes into the receiver is about 1/2" too short and hits the bumper. I have not tried it on my other vehicle to see if this is a problem. Kind Regards Leon D 145385
Comments
Leon, I have the same problem and am looking for a resolution. Ive called Andersen my CA sales rep and left a message.Id even be interested in paying for a custom shank length to be built for me needs. Well see, fingers crossed.
comment by: JohnnyJ - 09/04/2014
6656
Johnny thanks for the feedback. In case you did not know we do also offer some ball mounts in extended lengths (long and extra long) for this exact reason. For a long ball mount that has the same rise and drop as this Rapid Hitch ball mount, check out the Diversi-Tech # DTSTBM7025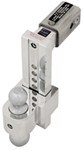 Solid-Tow Adjustable, Aluminum Ball Mount - 2 Chrome Balls - 10" Drop, 11" Rise - 10K
$275.95. For this ball mount the distance from the center of the hitch pinhole to the back of the upright bar is 4-1/4 inches, vs. the Rapid Hitch # AM3413 is 3 inches.

Rachael H - 9/5/2014
- AM3410
by: Doye195708/20/2014
Review from a similar Andersen Rapid Hitch in Ball Mounts
When arrived which was quicker than I expected ,all was as advertised . The product looks great , have not had a chance to use it since it was installed . 147673
Comments
Great hitch and remains looking good also

Doye1957 - 08/21/2015
14462
- AM3410
by: Kevin W11/14/2014
Review from a similar Andersen Rapid Hitch in Ball Mounts
Good, solid, but not overly heavy due to material. Should work great...need to buy two keylock pins so it doesn't get stolen. Adjustment up and down and interchangeable balls will allow me to leave mounted on truck all the time and adjust it for different trailers to keep them all leveled how I want them. Also, not having two (or more) receivers bouncing around in the back of the truck or toolbox will be nice. This replaces four receiver hitches for me--two drops for a small utility trailer and two straight ones that I use for the boat and big flatbed trailer. 160858
- AM3410
by: Jon C06/25/2012
Review from a similar Andersen Rapid Hitch in Ball Mounts
This product is excellent!!! its adjustability up and down made it very easy to level my boat and the different balls reduced the amount of time for me to change out from towing boat and trailer. It was an excellent purchase. the only downside i had was looking at the product on youtube, from the etrailer.com video, in the video it states that this product comes with two locking pins, but on delivery they were just standard pins without locks. they do sell them seperately on the website, but it was alittle decieving. but overall good product 45552
- AM3405
by: Ray M.03/18/2015
Review from a similar Andersen Rapid Hitch in Ball Mounts
Perfect !!! The Rapid Hitch is an excellent example of American Quality ... the product is easy to install, easy to adjust for different trailer heights, and should be very durable with the greaseless balls and totally aluminum mount. I am very satisfied. etrailer.com was very prompt with the shipping ... everything arrived in a sturdy box and well packaged to prevent damage. As a result of this purchase and my satisfaction with etrailer.com I have made a couple additional orders for my trailering needs. 179526
- AM3410
by: Jason07/20/2012
Review from a similar Andersen Rapid Hitch in Ball Mounts
I recieved this item quickly and with GREAT service from etrailer.com. Upon examination, I was impressed with the amazing quality of the item. Pins and parts fit with perfection. Heavy duty, smooth, flawless machining. Looks great on my black Tahoe. If you are simply looking for the highest quality and most aesthetically pleasing ball mount on the market, this is, by far, the best choice. I kinda wish I had bought the 4 inch drop version, but I may get a lifted truck to tow my boat in the near future. 48713
- AM3410
by: F.Flores10/27/2016
Review from a similar Andersen Rapid Hitch in Ball Mounts
I really like this hitch. Very good quality. Only short fall is that it should include the locks due you can't buy them in any store due to the length is longer than the normal pin lock. I recommend that should be sold as a combo. picture has the locks required 311340
- AM3473
by: Chase M.10/11/2011
Review from a similar Andersen Rapid Hitch in Ball Mounts
Ball Mount on my Dodge Ram. 25423
- AM3477
by: Dave Auman09/19/2013
Review from a similar Andersen Rapid Hitch in Ball Mounts
Pictures attached. 100584
- AM3460
by: Sam07/24/2016

Review from a similar Andersen Rapid Hitch in Ball Mounts
I've been using my rapid hitch for almost a year now, and I have to say that I can't find anything really wrong with it. It has virtually eliminated the need to carry multiple mounts around. The adjustability has provided the perfect options for height for everything from utility trailers, boats of all sizes, car trailers and large enclosed snowmobile trailers. An added benefit is that it looks pretty good too. 275629
- AM3410
by: Gene P06/28/2016
Review from a similar Andersen Rapid Hitch in Ball Mounts
The hitch was received quite quickly and is even nicer than the picture shows it to be. I pull different trailers and it was always a hassle to have the correct hitch. I also like that they did a follow up call when I requested the item be shipped to an address other than my billing address. We are all concerned about credit card fraud. I will definitely order from them again! 265882
- AM3410
by: Gary05/02/2012
Review from a similar Andersen Rapid Hitch in Ball Mounts
This looks to be a great hitch well built, i wish we could buy more USA built products. This great looking aluminum hitch will look great om my new f250. I really think it woul be good if the 1 7/8 ball came with the hitch . If this hitch came to fit the 2 1/2 in reciever witout having to use a sleeve it woud be the great hith for all the 2 1/2 in recievers. 39132
- AM3477
by: Phil B06/20/2012
Review from a similar Andersen Rapid Hitch in Ball Mounts
This hitch combines the perfect balance of tongue weight and hitch drop. I purchased this for my 3/4 ton suburban pulling a 12' Haulmark trailer...what a dream. the greaseless ball is a bonus to keep pants clean when bumped into. Strongly advise the locking pins... this hitch will be stolen quickly as it is super sharp to look at. highly recommend!!! 44984
- AM3413
by: Bri10/11/2016

Review from a similar Andersen Rapid Hitch in Ball Mounts
My husband wanted to get some $500 name brand hefty thing. He didn't buy that monstrosity in time, so I looked around and ordered this. A year later, he LOVES it, and it's been used to pull multiple trailers on his VERY high truck. It helps immensely with the lift difference, and the interchangeable ball means all trailers fit. 305453
- AM3410
by: Steve W03/23/2015
Review from a similar Andersen Rapid Hitch in Ball Mounts
This hitch is a great example of an attractive and functional product. I have two trailers (one requires a 2" ball, the other a 2-5/16" ball), and this hitch will make switching trailers a snap. It is light-weight and beautiful. My only drawback is that it is somewhat pricey. Good product, great customer service. Thanks. 180254
- AM3411
by: Jesse pardue05/30/2015
Review from a similar Andersen Rapid Hitch in Ball Mounts
This is a great product my father has had one for years and I just bought one, it would be nice if it included a second pin though, for the actual hitch to truck connection. As for shipping it got here right on time I would just suggest making sure that an email is sent with tracking information immediately after purchase. 198687
- AM3460
by: Dennis C.04/28/2016
Review from a similar Andersen Rapid Hitch in Ball Mounts
The hitch is high quality and it's also made in the USA, which is important to me. I am excited to tow my 6000 Lb. boat with the new hitch, I think it will do quit well. I will have to buy a pair of locks for the hitch, so it doesn't disappear from the back of my truck. I really appreciate the free shipping, too. 247271
- AM3473
by: Ron S.05/30/2014
Review from a similar Andersen Rapid Hitch in Ball Mounts
Ordered after 5 PM on Friday before long holiday weekend (including Monday). Received Tuesday. Pretty good service! Jan L was a pleasure to work with on the phone. Product was just as described and works and looks great on the tail of a 2014 Ram 3500 dually. What a nice company to purchase products from. 133454
- AM3413
by: James Schweitzer10/25/2016
Review from a similar Andersen Rapid Hitch in Ball Mounts
Impressed with website. Found exactly the hitch I wanted. Ordering was easy. Received it quickly. Hitch appears to be of excellent quality, and as described. By suburban 2500 has a higher than average bumper. This hitch solves my issue. Thanks for the integrity of your company. Thank you George and etrailer! 310754
- AM3413
by: Joel F.10/05/2012
Review from a similar Andersen Rapid Hitch in Ball Mounts
I use this drop down to pull my 22' wake board boat. It looks great on my truck and the quality is solid. It works exactly as described. My only complaint is that it has a little more play when breaking and accelerating from a dead stop than I like. I believe they do make a anti-vibration version of it. 56339
- AM3405
by: Slav12/26/2014
Review from a similar Andersen Rapid Hitch in Ball Mounts
recommended by RentAnAirstream Came in right on time to let Santa put it under the tree. Thank you! 167024
- AM3460
by: Scott B.07/08/2013
Review from a similar Andersen Rapid Hitch in Ball Mounts
Rugged construction, very adjustable, and easy to adjust. Excellent!!. The lawn trailer needs 3inch drop and the camper needs 3inch rise - this hitch does it all and switching over takes only seconds. Only had for a week so towed just a couple times and only a few miles but perfect so far. 88311
- AM3400
by: Rich C03/30/2015
Review from a similar Andersen Rapid Hitch in Ball Mounts
Arrived as expected. Big and beefy and will have no problem hauling my 8000 lb trailer. 181622
- AM3413
by: Rick M.11/23/2013
Review from a similar Andersen Rapid Hitch in Ball Mounts
If your product is half as good as it looks then this should be one heck of a product. Shipping was phenominal. Order was placed late Sunday evening and delivered Tuesday evening, most impressed. Thank you, looking to do further business with your company. Sincerely, Richard McDonald 108284
- AM3400
by: Jimmy R05/02/2012
Review from a similar Andersen Rapid Hitch in Ball Mounts
I bought this for my new FX4 because wanted something that would perform well and look great too. I haven't had an opportunity to tow with it yet but the initial quality and apperance is impressive. The service and speed of shipping from etrailer was excellent as well. 39167
- AM3462
by: Norm F02/24/2017
Review from a similar Andersen Rapid Hitch in Ball Mounts
Just took delivery of the Anderson 4" drop adjustable. Seems very nice and decent quality. Service by e-trailer was prompt once again. Will need to put the hitch to use before giving a complete review but impressed out of the box for now. Same with the locking pins. 345342
- AM3460
by: jammz06/25/2014
Review from a similar Andersen Rapid Hitch in Ball Mounts
This is a great product, so light and easy to use. Wish I had known about the pre-coated ball version, as i would have purchased that version, just cleaner than having grease on everything. Still this is by far so much easier than the old metal style receivers!! 137636
- AM3410
by: Barry m11/15/2016

Review from a similar Andersen Rapid Hitch in Ball Mounts
Great product! Love the easy transition from 2" to 2 5/16" balls. I have used both about equity. Now I don't have to carry 2 complete receivers with me. I have a 20' heavy duty trailer that I pull quite often and I have no problems with it st all. 316753
- AM3410
by: Bruce05/14/2015
Review from a similar Andersen Rapid Hitch in Ball Mounts
Hitch works great! Pulling a 27' SeaRay cabin cruiser behind Dodge 3500, wide range of height adjustments makes it easy to fine tune the ride. I also purchased the dual-locking pins, hightly recommend those (or something similar) to thwart theft. 192974
- AM3410
by: micah11/20/2014
Review from a similar Andersen Rapid Hitch in Ball Mounts
Received in a timely manner due to inclement weather. However, it fits like a glove and ready for the open road and some times. Primary excited that it can match just about any trailer height with ease and puts my mind at peace. Highly recommended. 161993
- AM3473
by: Kristian01/04/2017

Review from a similar Andersen Rapid Hitch in Ball Mounts
This product has been perfect. It allows me to easily, securely, and safely tow my two trailers. I can switch between trailers in less than a minute! As an added bonus, given the all alumnimum components still looks like the day I bought it! 329860
- AM3410
by: Hector G02/24/2014
Review from a similar Andersen Rapid Hitch in Ball Mounts
Had the same hitch on work truck. Great product. Fast delivery I wish they would have put in unmarked box ... Lots of construction in my neighborhood and this hitch would be prime pickings for someone in a work vehicle that tows anything. 117411
- AM3411
by: Bill P06/17/2016
Review from a similar Andersen Rapid Hitch in Ball Mounts
HI There - Thanks for the prompt delivery and excellent customer service. Rebecca is awesome...got all the details, got it shipped and even emailed me to let me know it delivered. Rebecca is awesome and so is the product. Thanks, Bill P 262112
- AM3460
by: Tony06/25/2014
Review from a similar Andersen Rapid Hitch in Ball Mounts
Was able to use the hitch for the first time this weekend. It was used to tow a BobCat mini excavator, almost 8,000 lbs. Worked like a charm. Was able to adjust it to level both trailers that I used to deliver and return the excavator. 137686
- AM3411
by: Jim K.08/12/2016
Review from a similar Andersen Rapid Hitch in Ball Mounts
Haven't used it yet but came quick and as described. There were lots of shavings in the bag but doesn't seem to have damaged it. Not sure if that's common. But overall looks heavy duty. Satisfied with service and would buy again 282905
- AM3405
by: Cag03/30/2016
Review from a similar Andersen Rapid Hitch in Ball Mounts
Picked up an aluminum burr in my finger when unpacking the unit. There are some unfinished type of circles that are quite sharp and need to be filed smooth. Other than that, the unit looks great and I'm anxious to put it to use. 242407
- AM3411
by: John D11/24/2016
Review from a similar Andersen Rapid Hitch in Ball Mounts
this was a great shopping experience. It was a phone order and Michelle handled every detail quickly and efficiently. There were no problems and the order arrived just as ordered and promised. I will be ordering here again. 320719
59
189
Show More Reviews