Customer Reviews
Replacement Locks and Keys for SportRack Explorer Cargo Box - SR03807
Average Customer Rating:





4.9 out of 5 stars (83 Customer Reviews)
- SR03807





by: AJ10/16/2012
Locks function as they are suppose to. Found out the hard way that I needed new back plates to refit since my cargo carrier was manufactured in 2002. I had to slightly modify (enlarge the mounting hole) to accommodate the lock. Special "thank you" to Charlene for expediting my order to ensure it arrived ahead of schedule due to a family trip. Also, to Katie for following up. I will definitely order from etrailer again due to the service I received. 57354
Comments
eTrailer, It has been a year and the parts I ordered have held up to a years worth of traveling. Thank you the outstanding service provided when I purchased these parts.

AJ - 04/16/2014
3587
You are quite welcome AJ, we're glad to hear things are holding up. As always give us a shout if you have any questions or if we can help with anything.

Patrick B - 4/16/2014
- SR03807





by: Arthur Douglass07/12/2012
I ordered this lock set because we bought a used Sears cargo carrier. I did not realize that I needed a key to lock/unlock the carrier until I got the carrier home. I took the carrier on vacation to Myrtle Beach, SC (6/2012). My problem began when the carrier opened and I lost a bag of new clothes that we purchased for my daughter. My life was made miserable for not securing the carrier. We are driving to Orlando in a few days and I needed to buy this lock set asap. Etrailer helped me get out of my jam and I am so appreciative. The customer service person Leena E., was very professional and courteous. I told her that my carrier was a Sears product and not a Thule. She asked me a few questions and told me that the part would also fit my carrier also. I would order from this company again. I am thinking of ordering a trailer hitch from Etrailer for my minivan in the near future. I would also encourage my friends and family to buy from this company. 47755
- SR03807





by: Rich C07/04/2013
Just as I ordered, two locks for an old cargo carrier that I had lost the keys to years ago. They fit and now I am able to lock my cargo carrier when I travel. I ordered them on Sunday late evening and just a few hours later I had an email that they had been shipped. UPS obviously didn't pick them up until the next day, but they were delivered two days later. Great service, no hassles. Would highly recommend and use again. Thank you. 87733
- SR03807





by: ck12/31/2013
This is 2nd time ordering from e-trailer, for locks and latches. Every time has been fast and accurate service, products description is accurate so no guess work, product description helps a lot when trying to match hard to find parts!!! 111608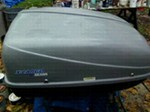 Click to Enlarge
- SR03807





by: Sandra I08/05/2014
We ordered these for our car top carrier that we were unable to use because we had lost the keys to the locks. Last minute I ordered these from you for a vacation planned at the end of the week. Product came sooner than we expected and we easily replaced the old locks with this set. Just got back from the week long vacation and had lots of room in the car thanks to your product and service being exceptional! 144617
- SR03807





by: Stan Z.08/25/2014
I got a bunch of accessory items from etrailer needed for my cargo box to mount/work properly. These locks work great, but they are just a basic component. The best part of etrailer is the customer service which is, hands down, the best of all online retailers I have ever dealt with: from order to follow-up these guys are the best retailer who I will start using as much as possible. 148266
- SR03807





by: David04/12/2013
Locks themselves were as advertised and arrived in good order. I don't feel it necessary to wrtie a review of replacement locks--they're locks and they lock the box they're for. I will say I am thouroughly happy with my purchase experience. etrailer has been awesome. Prompt service, personal attention and a great selection. I'm very appreciative and wil be returning. 75550
- SR03807





by: Miguel N.09/17/2012
I picked up an Xcargo car top carrier from a church sale but they didn't have keys for it. These locks seem to be of the same quality as the originals, fit perfectly, function smoothly and arrived just in time for a trip to North Carolina in a couple of days. Being able to secure this carrier will not only afford us with more space, but also more safety and comfort inside. 54940
- SR03807





by: Todd B.07/10/2014
The quality of the locks and keys is good. The design is somewhat different than the OEM model, though. The cut-outs on the cylinder are at a different angle than the original. That means that the bracket that helps align the top of the box with the bottom cannot be installed (or must be installed upside down, in which case it only functions as a washer). 140647
- SR03807





by: Scott T.03/17/2014
Product works as advertised; received in a very timely way from etrailer.com. I've had two of these Explorer Cargo boxes over the years - both acquired very inexpensively from garage sales. In both cases the keys were missing. These replacement locks are an inexpensive way to restore full use of the boxes for less than a locksmith service would cost. 120989
- SR03807





by: Aaron D.01/20/2014
This product was exactly what I needed when purchasing a used cargo hauler that did not have the keys. After cleaning it up and having new locks like these, it is as good as new. Shipping was also very quick. From order to delivery it was only 4 business days. I'll definitely keep etrailer in mind if I need anything else like this. 114293
- SR03807





by: Bryan H.03/01/2014
The product is just as it was advertised and the experience with etrailer.com was one of the best I have ever had purchasing products on-line. Etrailer.com was very prompt with all steps of the purchasing process and extremely customer friendly. I will definitely be purchasing through their website in the future. 118122
- SR03807





by: Troy Gilbert08/17/2012
Great service! Found exactly what I needed on your site (and nowhere else), and at a great price. Stephanie was very nice, helpful and fast, and the shipment arrived just as expected. Loved your on-site tracking feature. Just opened the package and the product looks high quality, too. Thanks again! 52125
- SR03807





by: Chris08/20/2013
Have an older (probably early 2000) sears x-cargo rooftop carrier. Bought it used with no keys. Was going to buy just the key from sears, but, was fearful it may not work. This whole kit comes with keys and locks. That's a no-brainer. They fit right in and work great. 96061
- SR03807





by: Dustin B.11/12/2014
I found an Explorer cargo carrier at a yard sale. It had damage to the locks and there was no available keys. I found the replacement products that fit the Explorer on etrailer.com. The product was as desribed and it's made my cargo carrier work perfectly. 160683
- SR03807





by: James C.12/25/2013
I recently purchased items SR03807 and SR03347 at a great price, fair shipping charges and lightning fast delivery. Both items were easy to swap out with the old ones and now the cargo carrier is secure and sealed from the weather. Thanks eTrailer 111100
- SR03807





by: Replacement locks/keys07/16/2013
Communication during the transaction was perfect. Product shipped on time and when received was in perfect condition. Installation went smoothly and I now have a "like new" Karrite Voyager car top cargo carrier. Thank you! 89834
- SR03807





by: Patrick D.05/05/2014
Broke a key off in the original lock on my cartop carrier. Ordered these and a few days later they were installed and working great - cartop carrier is back to normal. Thank you for the quick service. 128953
- SR03807





by: Chris M.08/23/2013
Everything was as expected, prompt shipping and delivery. Things were quite a bit overpackaged for what I ordered, however (not a huge deal, but something they should consider.) Thanks! 96533
- SR03807





by: Ryan d08/05/2014
Great seller will buy from again in near future got a trailer project im working on now and you guys have everything i guy could need and prompt payment and shipping process thanks again 144624
- SR03807





by: Dave W.07/08/2014
The latches were exactly what I ordered. The personal response from the time I ordered to the delivery was excellent. Thank you etrailer. I will definitely be using you again. 139948
- SR03807





by: Jonathan07/04/2014
Replaced similar lock on x-cargo cartoon carrier. Wasn't able to find 2 locks with keys elsewhere. Came in timely fashion. Easy to remove and replace. 2 keys with them was nice. 139255
- SR03807





by: Jim J07/11/2012
Used this for my x-cargo 18 cu ft carrier. Order process was easy, shipped out the next day, email link for order tracking sent along with order placed. Product works perfectly. 47567
- SR03807





by: Mike B.08/14/2013
Exact replacement for the locks on my trailer. After I twisted off the key in one of the old locks, I never thought I would ever find such a perfect match to replace them. 94980
- SR03807





by: Dennis S.09/23/2014
I would like to say the help I received with my order was Excellent, I was having problems with the keys not fitting and they worked with me until we had a fix. Thanks 152650
- SR03807





by: Zach11/23/2013
The product came in the mail quicker than expected and was perfect. I installed it within minutes and a 12$ investment saved us from scrapping a 300$ product. 108251
- SR03807





by: Chris03/12/2013
Product was just as described and arrived quickly. Both the price of the product and the shipping charge were reasonable. I will definitely shop here again. 70311
- SR03807





by: Scott05/11/2014
Bought an old XCargo from a friend - had no keys. Purchased the repalcement lock set, and took 5 minutes to change out - no can lock and ride more securely. 130012
- SR03807





by: Jitterbug10/02/2013
Just what the doctor ordered. Jan was more than helpful. She's the best. And I will send the pictures of my finished trlr. 102344
- SR03807





by: Chris N.06/08/2011
This was a great replacement for an old trailer and fit the pre cut hole perfect! Shipping time was FAST! Thanks etrailer! 16462
- SR03807





by: Keith K.08/05/2014
I ordered a new set of locks for my car top carrier. The item was shipped quickly and as described!!!! Thanks :-) 144371
- SR03807





by: RG.06/27/2011
Exact product I needed (keys were lost on original). Shipped very fast. Would purchase from this site again. 18038
- SR03807





by: Rickey C08/10/2013
received locks in a couple of days of purchase exactly what I ordered will be buying more from etrailer 94391
- SR03807





by: Sonny05/16/2014
Locks were as described and delivered in a timely manner. Will definitely order from etrailer again. 131006
- SR03807





by: Mike K10/11/2013
I have an older Karrite Voyager carrier and these were a perfect replacement for the old locks. 103458
- SR03807





by: George P.08/27/2014
Just like the originals. Installed easy and worked perfectly. FAST shipping from etrailer.com. 149007
- SR03807





by: Jesus Rodriguez01/27/2014
Excelente customer service, super fast delivery, very reliable, I will recommend 100%. 114924
- SR03807





by: Racer X09/22/2014
The locks are exactly what I needed. They arrived quickly and installed in minutes. 152408
- SR03807





by: K.J.09/30/2014
Product was exactly what I was looking for - replacement part. Shipped fast too. 153689
- SR03807





by: Darla C.09/02/2014
Our order was a hassle free experience and delivery was prompt. All is good?????? 149579
- SR03807





by: Gabe06/16/2014
Lost original keys. Works as advertised. Easy to swap out great item good price. 135839
- SR03807





by: Johnny07/20/2014
Stock latch mechanism required modification but otherwise the locks work great. 142351
- SR03807





by: Mike P.07/08/2013
Excellent replacement locks. Switched both locks out in less than 10 minutes. 88257
- SR03807





by: Jay S10/01/2014
Exact replacement part along with the latches I ordered all arrived quickly 153915
- SR03807





by: Steve P04/22/2014
Fast delivery, very informative website, will do business in the future! 126591
- SR03807





by: Val08/05/2013
Replaced my missing lock with this and it fit perfectly! Good value. 93313
- SR03807





by: ACC10/09/2014
arrived promptly and fit exactly. I would purchase again if needed 155372
- SR03807





by: Brad Schaal06/20/2012
Replacement lock set for the Thule Side Kick cargo box worked great. 44979
- SR03807





by: Jason S.09/20/2013
Fast shipping, parts fit as they should, no problems whatsoever. 100726
- SR03807





by: R S Newell07/26/2013
Product was exactly what I needed. Arrived on time. Thanks. 91752
50
83
Show More Reviews